Cosmetic Dentistry
Ceramic Crowns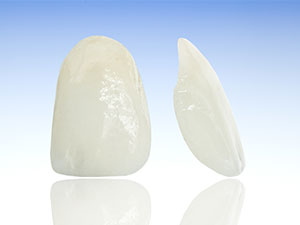 Once commonly referred to as, "porcelain jackets," today's all-ceramic crowns are fabricated from advanced generations of aesthetically appealing, lifelike materials affording strength and durability approaching that of tradition metal and porcelain fused to metal crowns (PFM).
When a tooth requires a full coverage restoration to rebuild its structural integrity and appearance, how good the crown will look and how well it will withstand the forces of oral function are major considerations in choosing the type of crown. In the past, only metal crowns or ones fabricated out of porcelain fused to an underlying substructure of metal offered the strength required to bite and chew without breaking. While porcelain fused to metal crowns to this day remain a popular choice for strong, attractive and long-lasting restorations to rebuild teeth that are damaged, decayed, misshapen, worn down, undersized, or have had a root canal procedure, there are some drawbacks. For one thing, the thin metal margin at the collar of a PFM crown may be visible at the gumline (especially in the presence of receding gums). Also, due to the presence of an underlying metal shell, porcelain fused to metal crowns do not come close to handling light in the same way as natural tooth structure or dental ceramics.
Advantages of Ceramic Crowns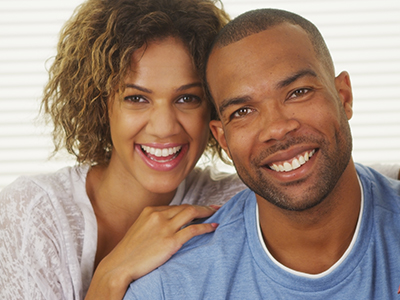 While the trade off between appearance and strength used to mean that porcelain or all-ceramic crowns looked better but did not have the strength and durability of porcelain fused to metal crowns that is no longer the case. All-ceramic crowns are not only capable of producing incredibly lifelike results, but thanks to the range of materials available today, all-ceramic crowns are stronger and more reliable than ever before.
Some of the advantages of all-ceramic crowns include:
All-ceramic crowns interact with light in much the same way as natural teeth and can closely mimic their translucency and luster
All-ceramic crowns can be made thinner and require less tooth reduction
All-ceramic crowns are kinder to the surrounding tissues, for potentially healthier long-term results
All-ceramic crowns are resistant to stain and discoloration
All-ceramic crowns are metal-free and safer for individuals with allergies or sensitivities to metal
With the range of engineered dental ceramics available today, which material is selected for crown fabrication depends upon the location of the tooth, the stresses on that tooth and the esthetic requirements of the case. Certain all-ceramic crowns are more suited for back teeth, while others are able to fulfill the aesthetic requirements presented by a front tooth.
Veneers
If your teeth suffer from gaps, chips, stains, or discolorations you may be a candidate for porcelain veneers, a highly effective and minimally invasive cosmetic procedure that can achieve beautiful results.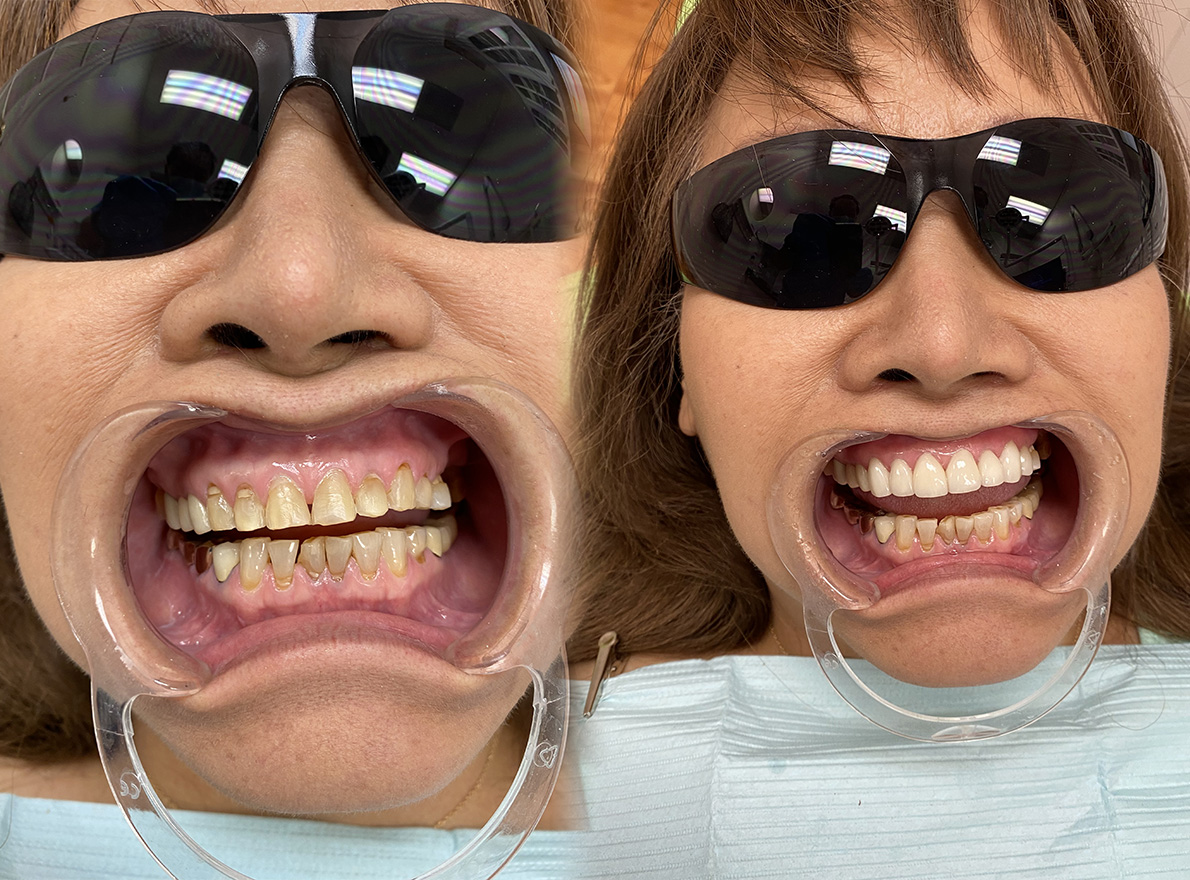 Porcelain veneers can change your smile without grinding your teeth down. From dark and ugly to bright and pretty
Porcelain veneers are thin facings custom-made of the highest quality ceramic materials that are designed to fit perfectly over the front of your teeth. One of the most conservative cosmetic treatments available, veneers can mask a host of dental imperfections to give you the smile that you have always wanted. Porcelain veneers not only enhance and improve the shape of your teeth, they are able to create an overall whiter and brighter smile.
One of the most appealing aspects of the process of fabricating porcelain veneers is that they involve minimal tooth preparation and take just a few visits. Porcelain veneers, once they are fabricated and fitted, are permanently bonded to the underlying teeth. The result is a naturally pleasing smile that is both strong and durable.
Cosmetic Smile Makeover
At the office of Pasco Dental, we combine the art and science of dentistry, to transform less-than-perfect looking smiles into ones that dazzle. Whether the appearance of your smile has suffered due to lost, missing, damaged, stained, or otherwise imperfect teeth, we can help. Armed with a comprehensive knowledge of dental aesthetics as well as a thorough understanding of complex requirements of an optimally functional bite, our professional team provides the treatment required to achieve your cosmetic goals and meet your expectations of care. Using the most advanced technology and the latest generations of the highest quality of dental materials, we'll create a new and improved smile that is at once beautiful, healthy and will serve you well for many years to come.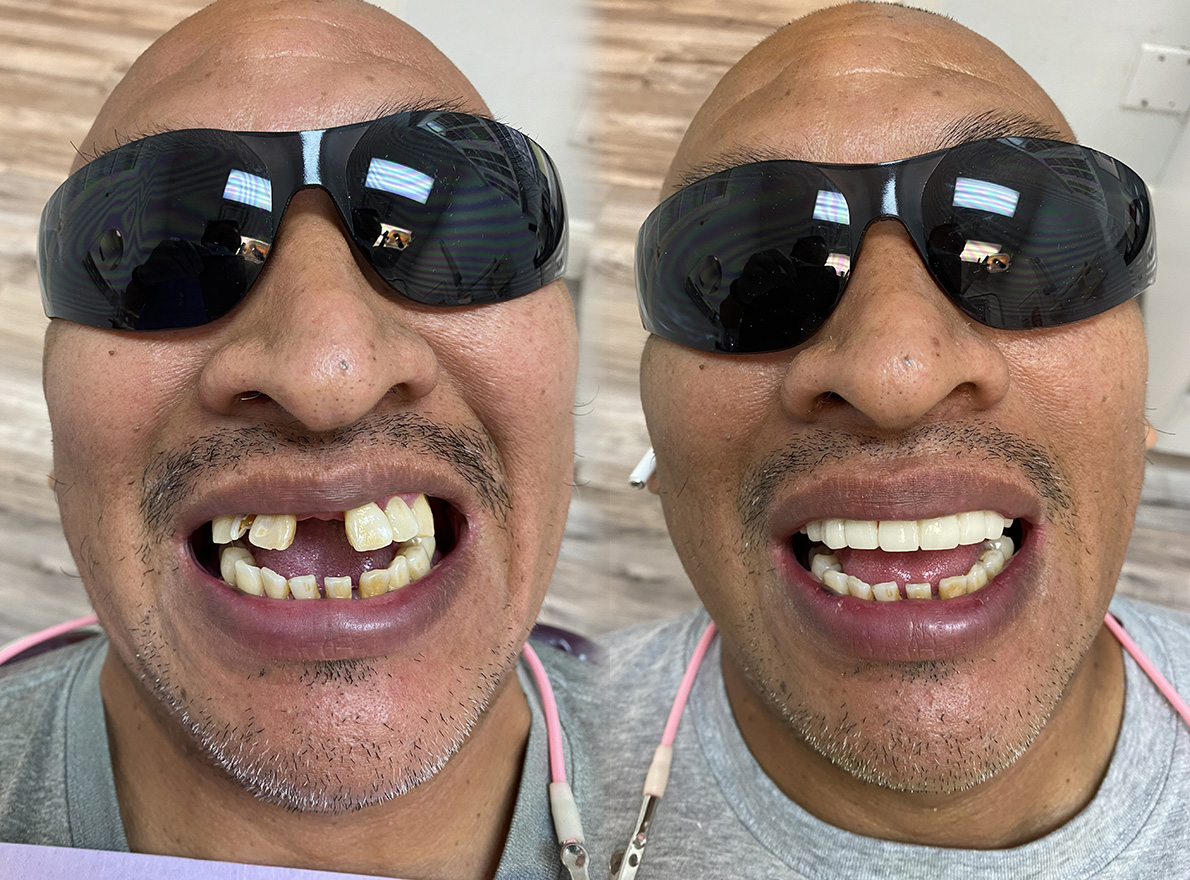 LARGE GAP AND TEETH FLARED OUT
This patient was embarrassed about large gap and lisping when talking. He went to several different offices who recommended either getting dentures or full mouth implants. He wanted cost effective option with teeth that stays in his mouth. We decided to go with porcelain bridge and within three trips, all in one month, he received a new teeth that feels natural and looks amazing. He will come back for lower teeth once he save up money.
Helping Patients Achieve Their Cosmetic Smile Goals
A successful and satisfying cosmetic treatment plan values patient input. As part of a cosmetic smile makeover consultation, your interests and concerns are discussed while your smile is carefully analyzed to determine which procedures will provide the most pleasing results of care. With conservative and minimally invasive procedures such as dental bonding, teeth whitening treatments, and porcelain veneers, it's possible to address a wide range of imperfections and achieve dramatic smile improvements. If cavities, significant structural damage, or cosmetic flaws are present, composite fillings, as well as full-coverage crowns offer excellent solutions in care.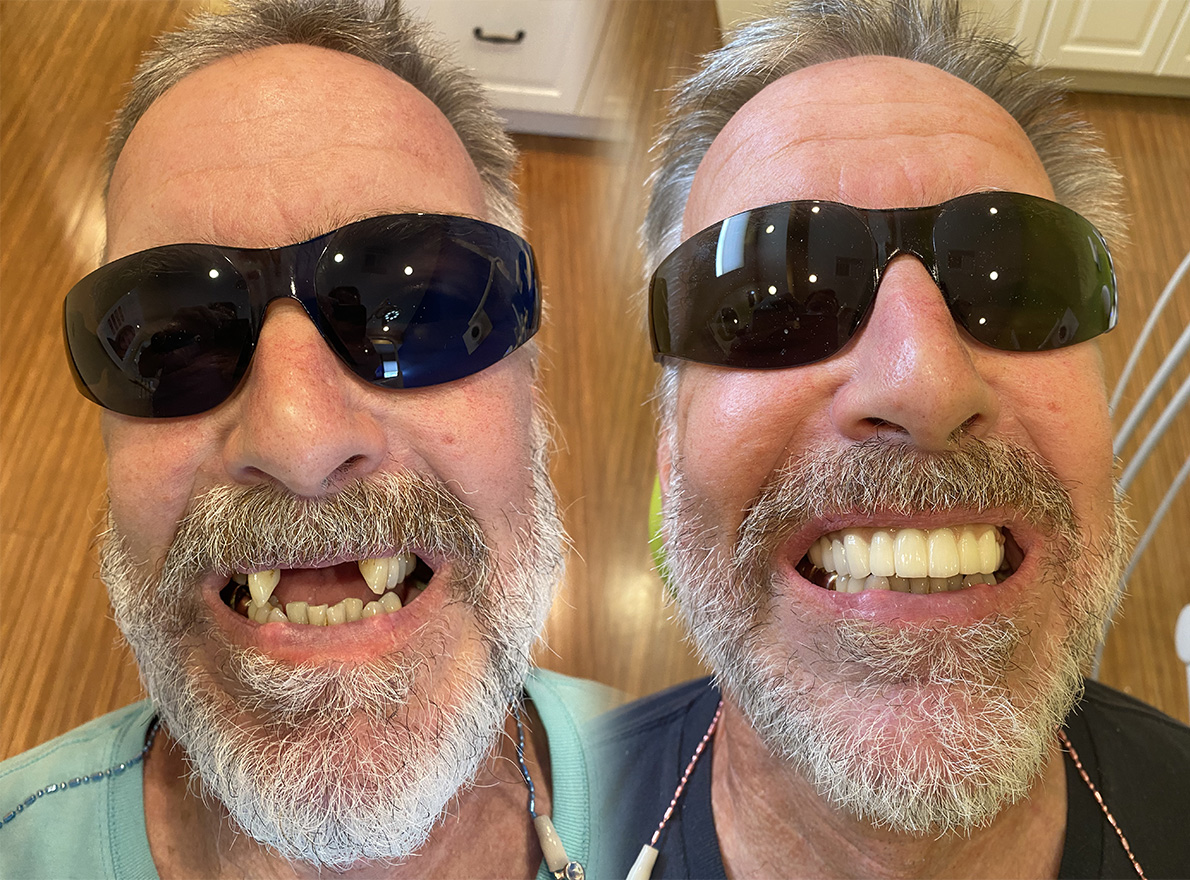 Throw away your denture and get real permanent teeth that looks beautiful and can eat anything.
There's also no reason to despair if the appearance and function of your smile is affected by missing teeth! Today, patients who are looking to rebuild a complete and beautiful smile have multiple choices in care. From the fabrication of dental bridges and dentures, to the placement and restoration of dental implants, we help patients reestablish their smiles. As the most advanced method of care, dental implants offer a permanent way to replace either individual or multiple missing teeth with results that look, feel, and function just like a natural smile.
Clearly, with so many outstanding choices in care, it's a good time to consider enhancing the look of your smile! For more information on cosmetic smile makeovers and the many dental services that we provide, give us a call today.
Teeth Whitening
Teeth that have been stained or darkened by food, tobacco use, age, medications or injury can be lightened and brightened by means of a non-invasive process known as teeth whitening.
Teeth whitening or bleaching simply refers to any process that will make the teeth appear whiter. While there are many over the counter options for teeth whitening, the most effective and safest teeth whitening systems are the professional strength ones available at the dentist's office. A dental professional whitening system offers a higher concentration of whitening components and delivers them to the teeth in the most efficient manner to achieve optimal results.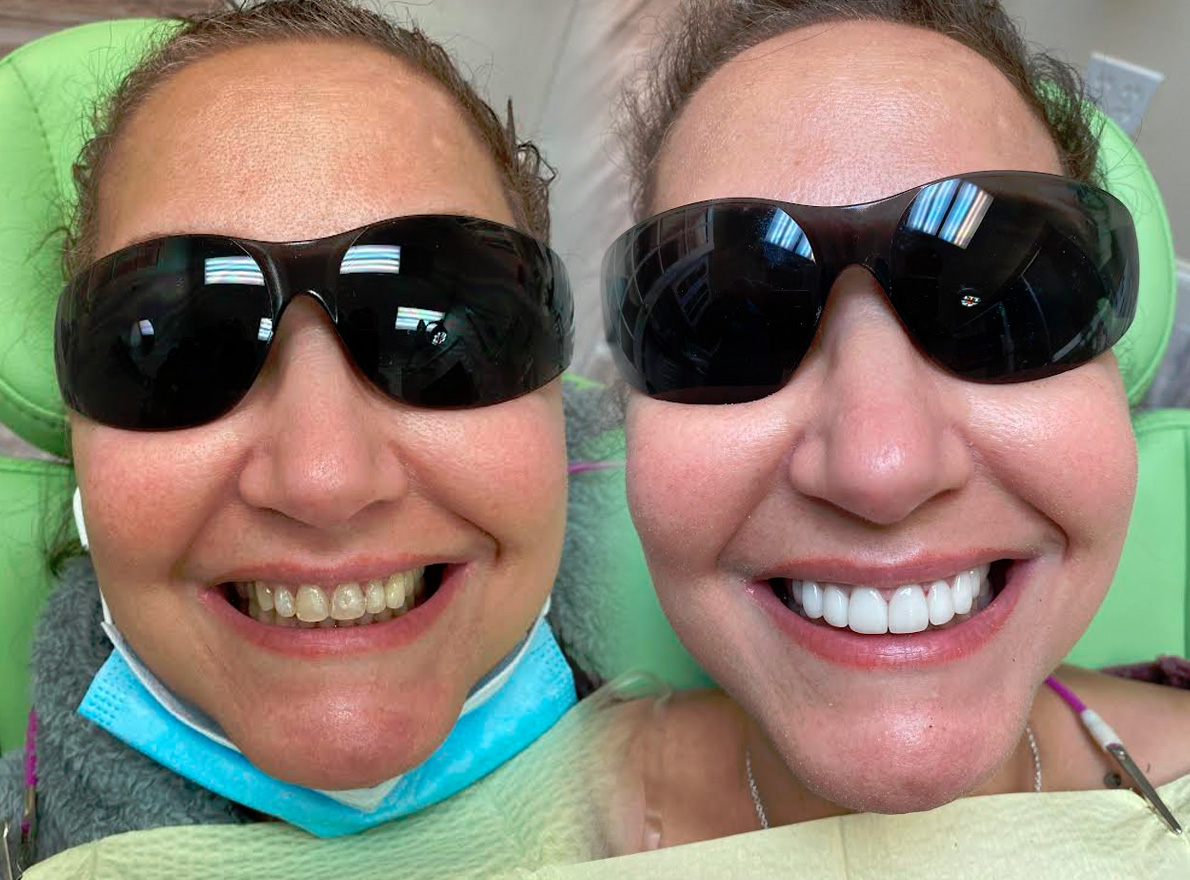 FROM DARK TO BRIGHT! BEAUTIFUL TRANSFORMATION ONLY IN 2 WEEKS. LOOKS AMAZING.
At our office, we offer two exceptional options for tooth whitening. You can choose either an in-office tooth whitening procedure or a professional take home system. Both of these are top-of the-line systems. However, the biggest advantage of the in-office procedure is that in as little as one hour you can achieve a smile that is several shades whiter and brighter than the original color of your teeth.
Our professional strength take home system also produces excellent results. However, this is achieved by way of a more gradual process. Our take home kit may be prescribed alone, or after an in-office treatment to perfect or maintain the in- office result.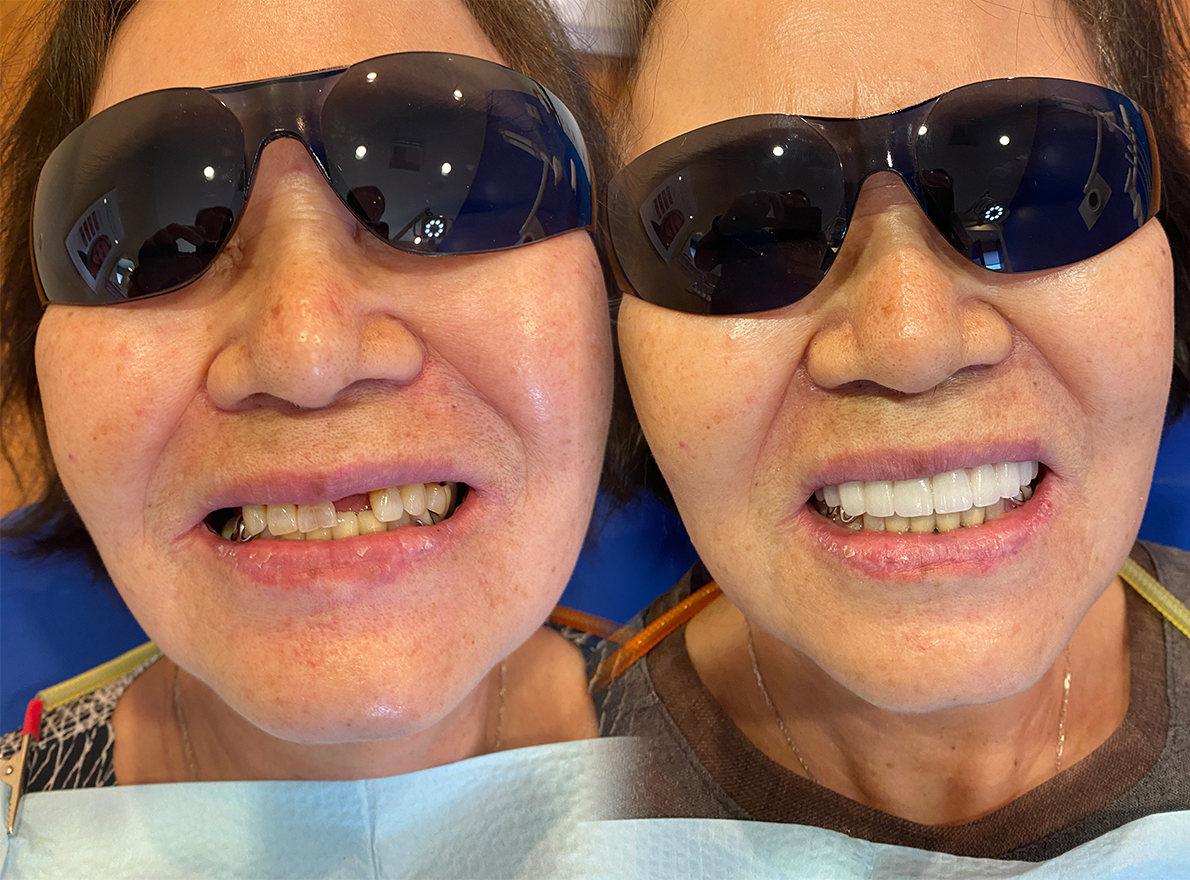 70 year old patient hated dark, worn down teeth and was wearing an annoying partial denture. We gave her a permanent solution with teeth that stays in her mouth. Now she looks amazing and can eat properly without denture moving around.
Pasco Dental
29450 FL-54
Wesley Chapel, FL 33543
(813) 907-6600
Lutz Dental
19105 US-41 #100
Lutz, FL 33549
(813) 591-6666