We provide a variety of comprehensive services to fit your needs. See a complete list of our services and additional information below.
Dental Implants
Dental Implants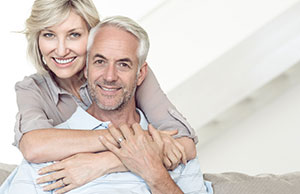 Dental implants represent the most recent and advanced method of replacing lost or missing teeth. Invented in 1952 by a Swedish surgeon named Per-Ingevar Branemark, dental implants today offer a highly effective, long-term solution for replacing missing teeth to reestablish a fully functional and attractive smile. Dental implants can be used to replace a single tooth, multiple teeth or all of the upper and/or lower teeth.
A dental implant is a small, biocompatible post that is surgically positioned by means of a minimally invasive procedure into the jawbone beneath the gums. Once healing takes place and the implant integrates with the bone, it behaves in much the same way as the root of a natural tooth to provide support for an aesthetically appealing dental crown or bridge. A period ranging from 3 to 6 months is required for the jawbone to fuse with the implant via a process known as osseointegration.
What are the benefits of replacing lost or missing teeth with dental implants?
Dental implants offer several advantages over traditional methods of tooth replacement including:
Dental implants come the closest to replicating the look, feel, and function of natural teeth.
With precise placement, good oral hygiene and routine care, dental implants can last for many years.
Dental implants provide continued stimulation to the underlying bone to prevent the bone loss that occurs when teeth are missing to preserve natural facial contours.
Since implants behave like natural teeth, there is no chance that they will slip or dislodge like removable dentures when speaking or eating.
With dental implants, it is possible to speak with ease as well as eat and taste all types of food with virtually no restrictions.
Dental implants do not decay and will not develop cavities.
Unlike a fixed bridge, dental implants do not require any preparation or crowning of teeth adjacent to the edentulous area.
Who is a candidate for a dental implant procedure?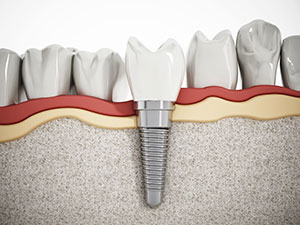 According to clinical studies, dental implants have a demonstrated long-term success rate of well over 95%. One key to the success and longevity of a dental implant is that sufficient bone is present to provide stable support for the implanted surgical post. If insufficient bone is present, a bone grafting procedure is often recommended prior to the placement of a dental implant. Additionally, candidates for dental implants should be free of periodontal disease and be aware that a continued, effective oral hygiene routine and care is necessary to maintain a strong and functional implant.
Treatment Planning for Dental Implants
Treatment planning a patient for the precise placement of a dental implant involves advanced scanning technology and software to map out the details of care from both a prosthetic and surgical prospective. In this way a case can be planned and meticulously executed from the beginning with the final restoration in mind. With advances in implant dentistry multiple approaches to care are now being offered. In certain cases an implant can be placed at the same time a dental extraction is performed. This procedure is known as, "immediate dental implant placement." Additionally, it is also sometimes possible to place "same-day dental implants." With this procedure a temporary crown or bridge can be attached to the implants at the same time they are placed. In all cases, complete healing and osseointegration is required before the placement of the final prosthesis.
Types of Dental Implants
Most dental implants are made of titanium but are also available "metal-free" zirconia. Both titanium and zirconia are biocompatible materials, which integrate well with the hard and soft tissues in the jaw. Depending upon the requirements of the case, a single dental implant can be restored with a crown to replace one missing tooth, or multiple implants can be used to support a fixed bridge. In cases where all of the upper and/or lower teeth are missing a full-arch, implanted supported bridge can be placed. Special implants can also be placed for added support and stability for removable overdentures or as anchorage devices in orthodontics called "TAD's" or Transitional Anchorage Devices.
Emergency Dental Care
Emergency Dental Care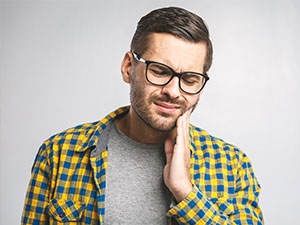 Dental emergencies can come about in any number of ways. Your discomfort may be due to an injury to the oral facial area, the acute flare up of a longstanding problem, or the result of the sudden onset of seemingly inexplicable pain. Whatever the case may be, urgent dental care is needed to provide you with relief and to avoid any further consequences to your oral health or function, as well as your overall well being.
There are many reasons to seek emergency dental care, including severe toothaches, chipped or fractured teeth, a dental abscess, impacted teeth, loose or broken fillings, lost or dislodged crowns, broken dentures and more. While the pain of a toothache is one of the more common reasons that patients come to our dental office for emergency dental care, we also promptly treat emergencies that are not necessarily painful like crowns that have been dislodged and broken dentures that leave embarrassing gaps in one's smile.
Whether your dental emergency is painful, if it affects the appearance of your smile, or if you suspect that an infection is present, contact our office immediately for care. We will make every effort to see you as promptly as possible.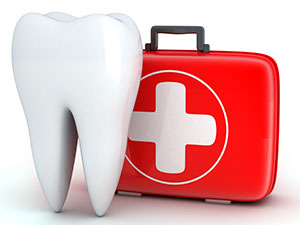 Toothaches
A toothache is the most common reason for oral pain. It is an uncomfortable, distressing and debilitating situation that if left untreated can result in serious consequences to an individual's oral health as well as overall well-being. Depending upon the underlying cause of a toothache and the degree of damage to the tooth and involvement of the surrounding tissues, the type and severity of symptoms can vary. While mild symptoms of discomfort are easy to dismiss and ignore, waiting until toothache pain is more consistent or severe is not advised. The best option is to make a timely appointment with the dentist for a professional assessment and care.
Although the reason for most toothaches is cavities (tooth decay/dental caries), a toothache or what may feel like pain related to the teeth can be due to any number of underlying conditions including:
A Cavity
Dentin Hypersensitivity (Sensitive teeth)
Dental Trauma resulting in chips, fractures, cracks or nerve damage to the tooth
Infection or Abscess
Periodontal Disease (Gum Disease)
Bruxism
Erupting or Impacted Teeth (wisdom teeth are often problematic)
Sinus or Ear Infections
Other medical conditions with referred pain to the jaw
Different types and degrees of toothache pain can point to different underlying causes and help in the diagnosis of the problem. Sharp and stabbing pain when eating or drinking hot and cold foods may be due to the presence of a cavity or exposed dentin and sensitive teeth. Pain with pressure or biting down may indicate a cavity or even a broken filling, a cracked tooth or periodontal problem. If the pain is continuous or throbbing, it is a sign that tooth decay or trauma has affected the nerve of a tooth or that an infection requiring prompt care is present. Localized swelling around the tooth or more generalized tissue and facial swelling and fever must be taken care of as quickly as possible.
Treatment of a toothache depends upon the diagnosis of the underlying problem, the degree of damage to the involved tooth or surrounding tissues and if any infection is present. Once the dentist has performed a comprehensive evaluation of the case, the appropriate recommendations and care to alleviate the symptoms and restore oral health will be provided.
Traumatic Injuries
Traumatic oral injuries can range from dental injuries to the teeth and their supporting tissues to lacerations in and around the mouth as well as more complex and severe damage to the soft tissues and bones of the face. These injuries are often caused by direct physical trauma to the teeth, mouth and face that may be the result of a fall, sports or work related incidents, motor vehicle accidents or assaults.
Chipped, Fractured or Cracked Teeth
It is not uncommon for a tooth to sustain a chip, crack or fracture. It may happen simply from biting down on a piece of ice, chewing on a pencil, or sustaining trauma such as a direct blow to the face and mouth. The damage to a tooth can range from a minor craze line or a small chip of the dental enamel to a more extensive fracture of the tooth that can even go so far as to fracture the root or split the tooth. Based upon the extent of damage to the fractured or cracked tooth, treatment may simply involve placing a suitable restoration such as a filling or crown or a root canal procedure along with a restoration. When the damage is extensive, an extraction is sometimes required.
Dentoalveolar Injury
Dentoalveolar injuries refer to traumatic injuries involving the teeth and the bone surrounding the teeth. These injuries can include teeth that have been dislodged or moved partially out of their sockets, with or without a segment of the adjacent bone, or an avulsion, which means that a tooth has been completely "knocked out" of its socket. In these situations, immediate dental care to reposition and stabilize the involved teeth and/or put the bone back into the correct anatomical positions is required. Beyond the routine post op care to check for tissue healing, the involved teeth are typically followed for a longer period of time to check for subsequent nerve involvement or other issues that may require additional care.
Soft Tissue Injuries
Soft tissue injuries in and around the oral cavity include lacerations within the mouth (intra-oral) and facial lacerations. If possible clean the area gently with water and apply a cold compress. For puncture wounds, tissue tears, and lacerations to the lips, cheeks, tongue or any other tissues in and around the oral cavity, prompt emergency care is required.
Dislocated or Fractured Jaw
Facial trauma that has resulted in a suspected dislocation or jaw fracture requires immediate care as problems with eating and breathing can ensue. Prompt care can minimize complications and accelerate healing. For a fractured jaw, treatment depends upon the extent of the injuries. While some clean breaks may only require immobilization, multiple fractures of the jawbone or displaced breaks involve more complex surgical care. If on the other hand the jaw has been dislocated as a result of a traumatic incident or opening the mouth too widely, it will need to be manipulated back into the correct position. For people who have had more than one dislocation, surgery may be needed to reduce the risk of further dislocations.
Tooth Removal
Cosmetic Dentistry
Cosmetic Dentistry
Ceramic Crowns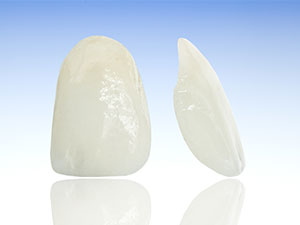 Once commonly referred to as, "porcelain jackets," today's all-ceramic crowns are fabricated from advanced generations of aesthetically appealing, lifelike materials affording strength and durability approaching that of tradition metal and porcelain fused to metal crowns (PFM).
When a tooth requires a full coverage restoration to rebuild its structural integrity and appearance, how good the crown will look and how well it will withstand the forces of oral function are major considerations in choosing the type of crown. In the past, only metal crowns or ones fabricated out of porcelain fused to an underlying substructure of metal offered the strength required to bite and chew without breaking. While porcelain fused to metal crowns to this day remain a popular choice for strong, attractive and long-lasting restorations to rebuild teeth that are damaged, decayed, misshapen, worn down, undersized, or have had a root canal procedure, there are some drawbacks. For one thing, the thin metal margin at the collar of a PFM crown may be visible at the gumline (especially in the presence of receding gums). Also, due to the presence of an underlying metal shell, porcelain fused to metal crowns do not come close to handling light in the same way as natural tooth structure or dental ceramics.
Advantages of Ceramic Crowns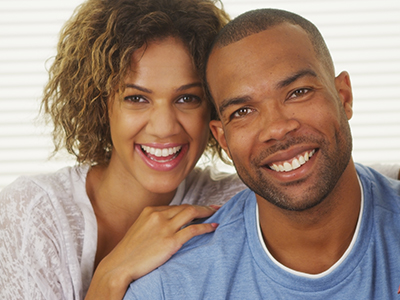 While the trade off between appearance and strength used to mean that porcelain or all-ceramic crowns looked better but did not have the strength and durability of porcelain fused to metal crowns that is no longer the case. All-ceramic crowns are not only capable of producing incredibly lifelike results, but thanks to the range of materials available today, all-ceramic crowns are stronger and more reliable than ever before.
Some of the advantages of all-ceramic crowns include:
All-ceramic crowns interact with light in much the same way as natural teeth and can closely mimic their translucency and luster
All-ceramic crowns can be made thinner and require less tooth reduction
All-ceramic crowns are kinder to the surrounding tissues, for potentially healthier long-term results
All-ceramic crowns are resistant to stain and discoloration
All-ceramic crowns are metal-free and safer for individuals with allergies or sensitivities to metal
With the range of engineered dental ceramics available today, which material is selected for crown fabrication depends upon the location of the tooth, the stresses on that tooth and the esthetic requirements of the case. Certain all-ceramic crowns are more suited for back teeth, while others are able to fulfill the aesthetic requirements presented by a front tooth.
Veneers
If your teeth suffer from gaps, chips, stains, or discolorations you may be a candidate for porcelain veneers, a highly effective and minimally invasive cosmetic procedure that can achieve beautiful results.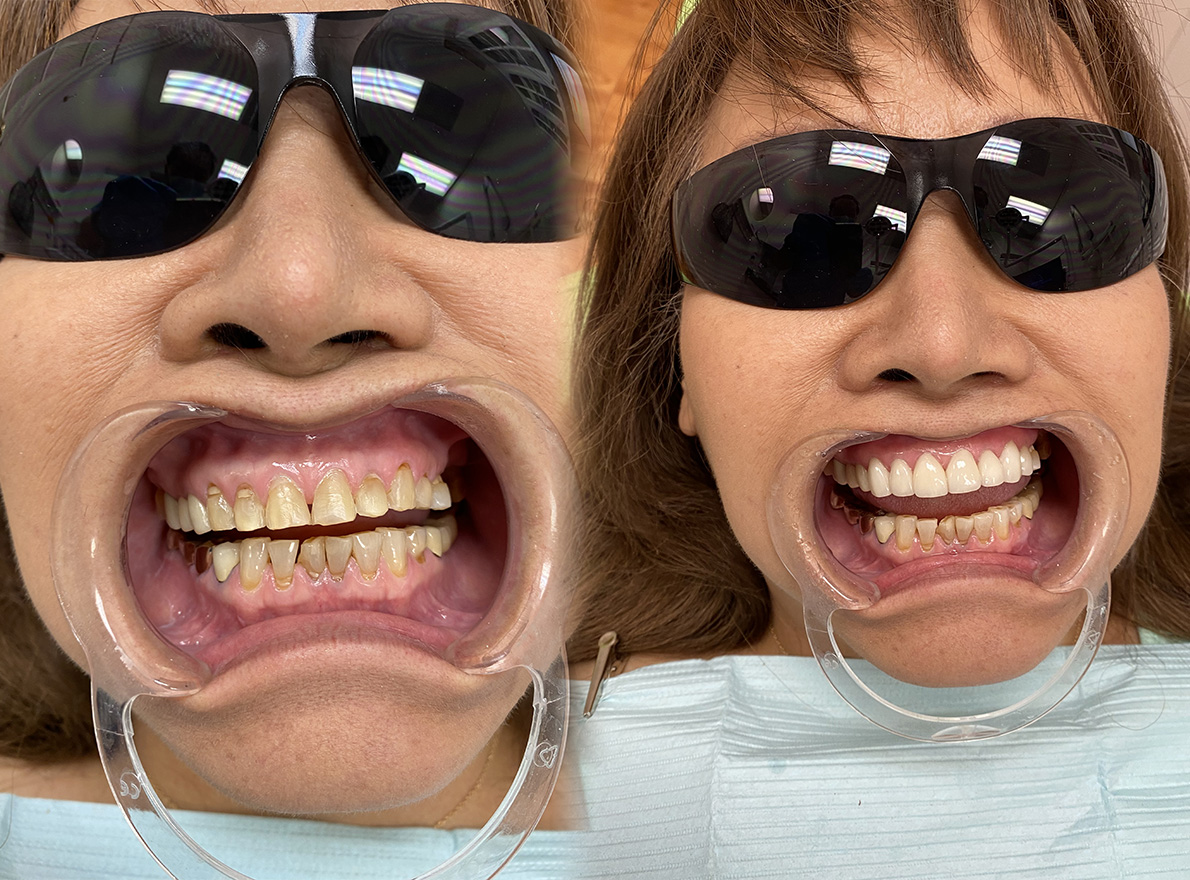 Porcelain veneers can change your smile without grinding your teeth down. From dark and ugly to bright and pretty
Porcelain veneers are thin facings custom-made of the highest quality ceramic materials that are designed to fit perfectly over the front of your teeth. One of the most conservative cosmetic treatments available, veneers can mask a host of dental imperfections to give you the smile that you have always wanted. Porcelain veneers not only enhance and improve the shape of your teeth, they are able to create an overall whiter and brighter smile.
One of the most appealing aspects of the process of fabricating porcelain veneers is that they involve minimal tooth preparation and take just a few visits. Porcelain veneers, once they are fabricated and fitted, are permanently bonded to the underlying teeth. The result is a naturally pleasing smile that is both strong and durable.
Cosmetic Smile Makeover
At the office of Pasco Dental, we combine the art and science of dentistry, to transform less-than-perfect looking smiles into ones that dazzle. Whether the appearance of your smile has suffered due to lost, missing, damaged, stained, or otherwise imperfect teeth, we can help. Armed with a comprehensive knowledge of dental aesthetics as well as a thorough understanding of complex requirements of an optimally functional bite, our professional team provides the treatment required to achieve your cosmetic goals and meet your expectations of care. Using the most advanced technology and the latest generations of the highest quality of dental materials, we'll create a new and improved smile that is at once beautiful, healthy and will serve you well for many years to come.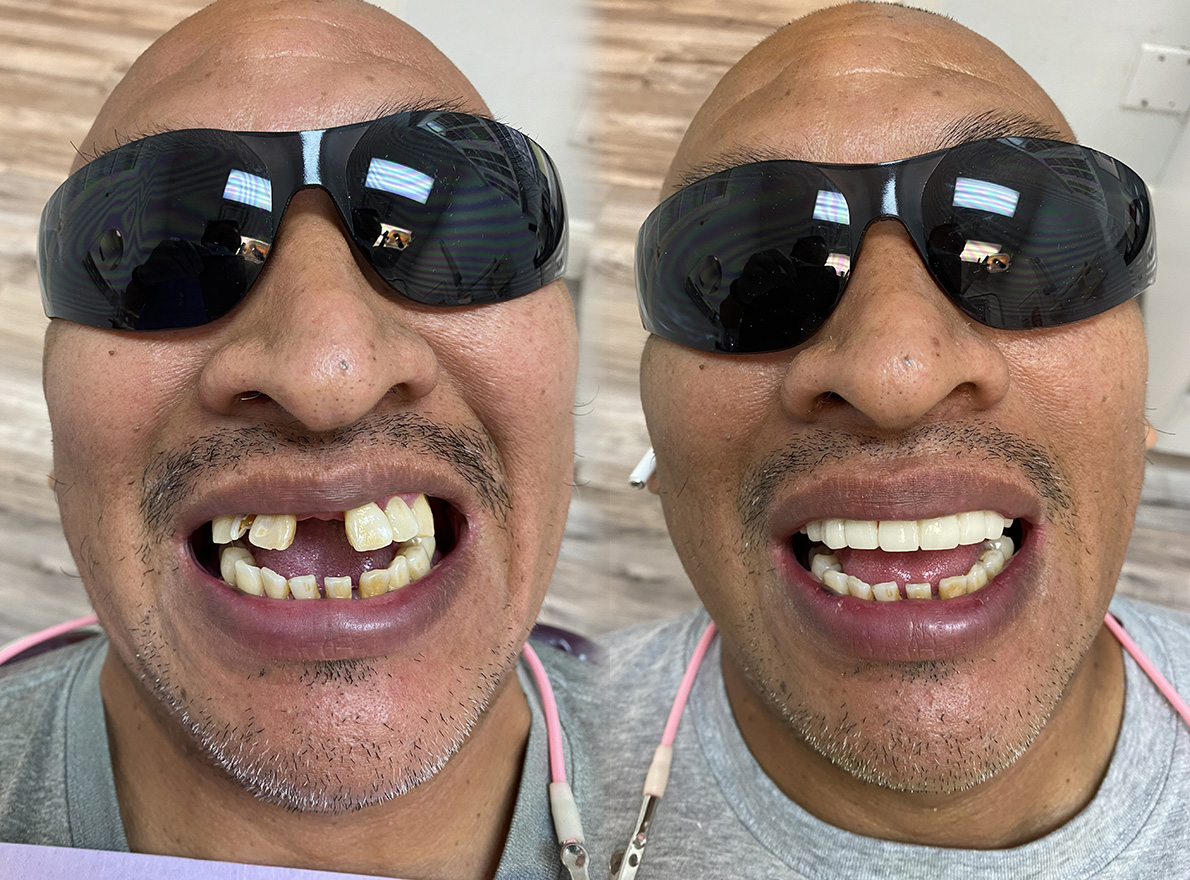 LARGE GAP AND TEETH FLARED OUT
This patient was embarrassed about large gap and lisping when talking. He went to several different offices who recommended either getting dentures or full mouth implants. He wanted cost effective option with teeth that stays in his mouth. We decided to go with porcelain bridge and within three trips, all in one month, he received a new teeth that feels natural and looks amazing. He will come back for lower teeth once he save up money.
Helping Patients Achieve Their Cosmetic Smile Goals
A successful and satisfying cosmetic treatment plan values patient input. As part of a cosmetic smile makeover consultation, your interests and concerns are discussed while your smile is carefully analyzed to determine which procedures will provide the most pleasing results of care. With conservative and minimally invasive procedures such as dental bonding, teeth whitening treatments, and porcelain veneers, it's possible to address a wide range of imperfections and achieve dramatic smile improvements. If cavities, significant structural damage, or cosmetic flaws are present, composite fillings, as well as full-coverage crowns offer excellent solutions in care.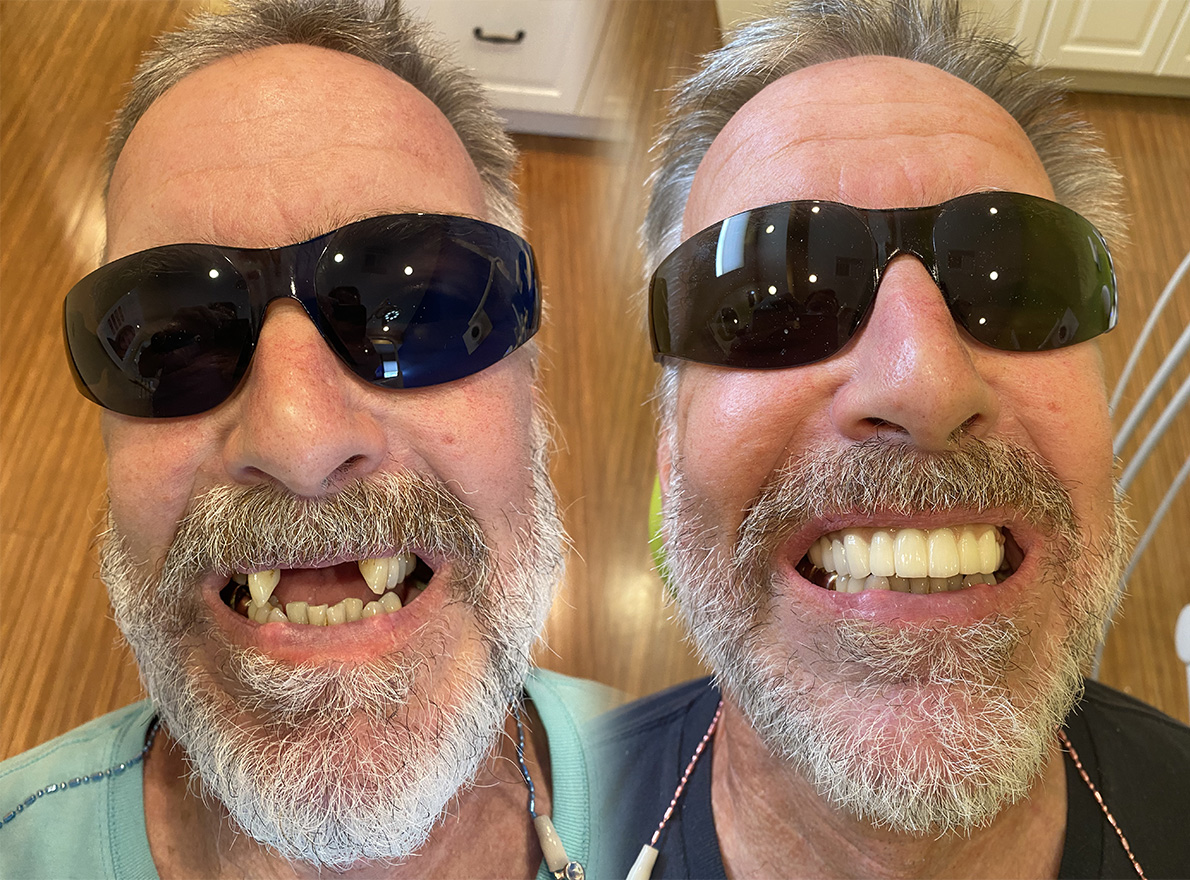 Throw away your denture and get real permanent teeth that looks beautiful and can eat anything.
There's also no reason to despair if the appearance and function of your smile is affected by missing teeth! Today, patients who are looking to rebuild a complete and beautiful smile have multiple choices in care. From the fabrication of dental bridges and dentures, to the placement and restoration of dental implants, we help patients reestablish their smiles. As the most advanced method of care, dental implants offer a permanent way to replace either individual or multiple missing teeth with results that look, feel, and function just like a natural smile.
Clearly, with so many outstanding choices in care, it's a good time to consider enhancing the look of your smile! For more information on cosmetic smile makeovers and the many dental services that we provide, give us a call today.
Teeth Whitening
Teeth that have been stained or darkened by food, tobacco use, age, medications or injury can be lightened and brightened by means of a non-invasive process known as teeth whitening.
Teeth whitening or bleaching simply refers to any process that will make the teeth appear whiter. While there are many over the counter options for teeth whitening, the most effective and safest teeth whitening systems are the professional strength ones available at the dentist's office. A dental professional whitening system offers a higher concentration of whitening components and delivers them to the teeth in the most efficient manner to achieve optimal results.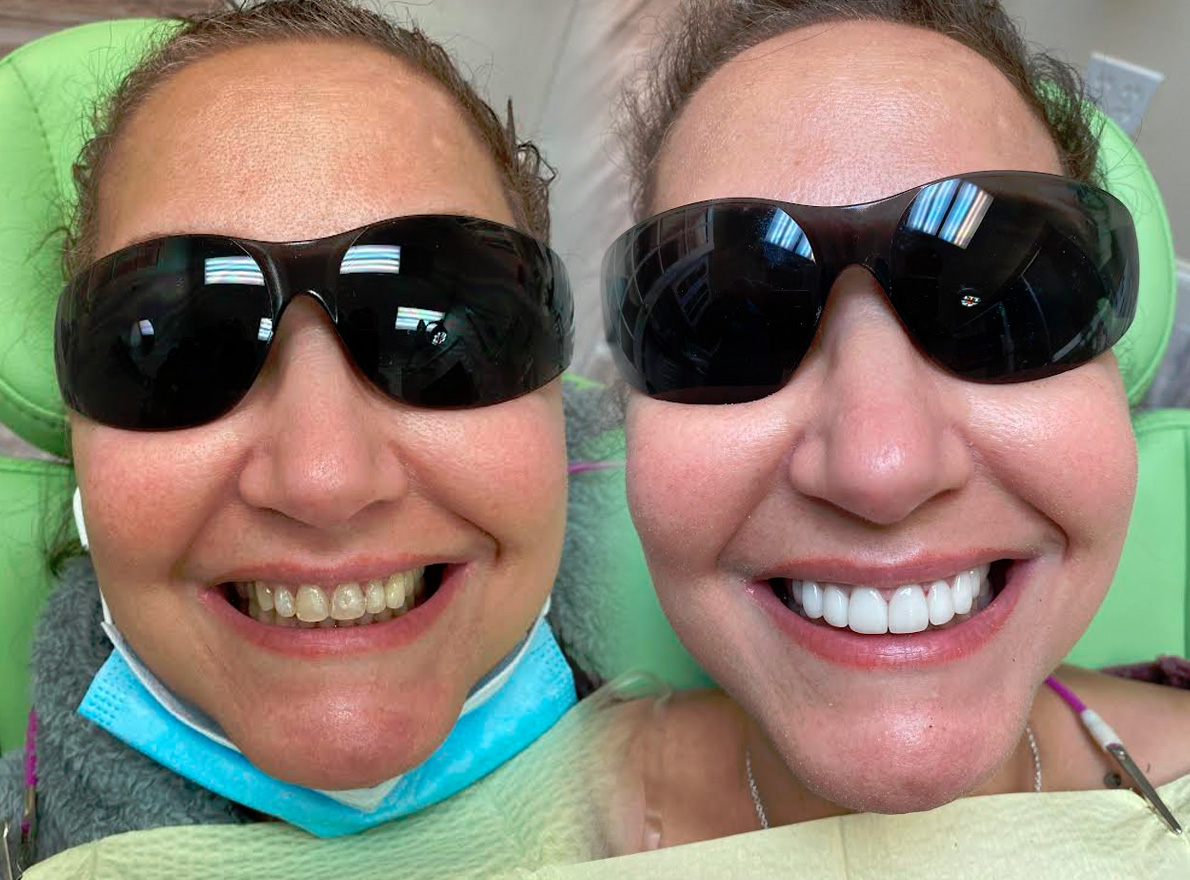 FROM DARK TO BRIGHT! BEAUTIFUL TRANSFORMATION ONLY IN 2 WEEKS. LOOKS AMAZING.
At our office, we offer two exceptional options for tooth whitening. You can choose either an in-office tooth whitening procedure or a professional take home system. Both of these are top-of the-line systems. However, the biggest advantage of the in-office procedure is that in as little as one hour you can achieve a smile that is several shades whiter and brighter than the original color of your teeth.
Our professional strength take home system also produces excellent results. However, this is achieved by way of a more gradual process. Our take home kit may be prescribed alone, or after an in-office treatment to perfect or maintain the in- office result.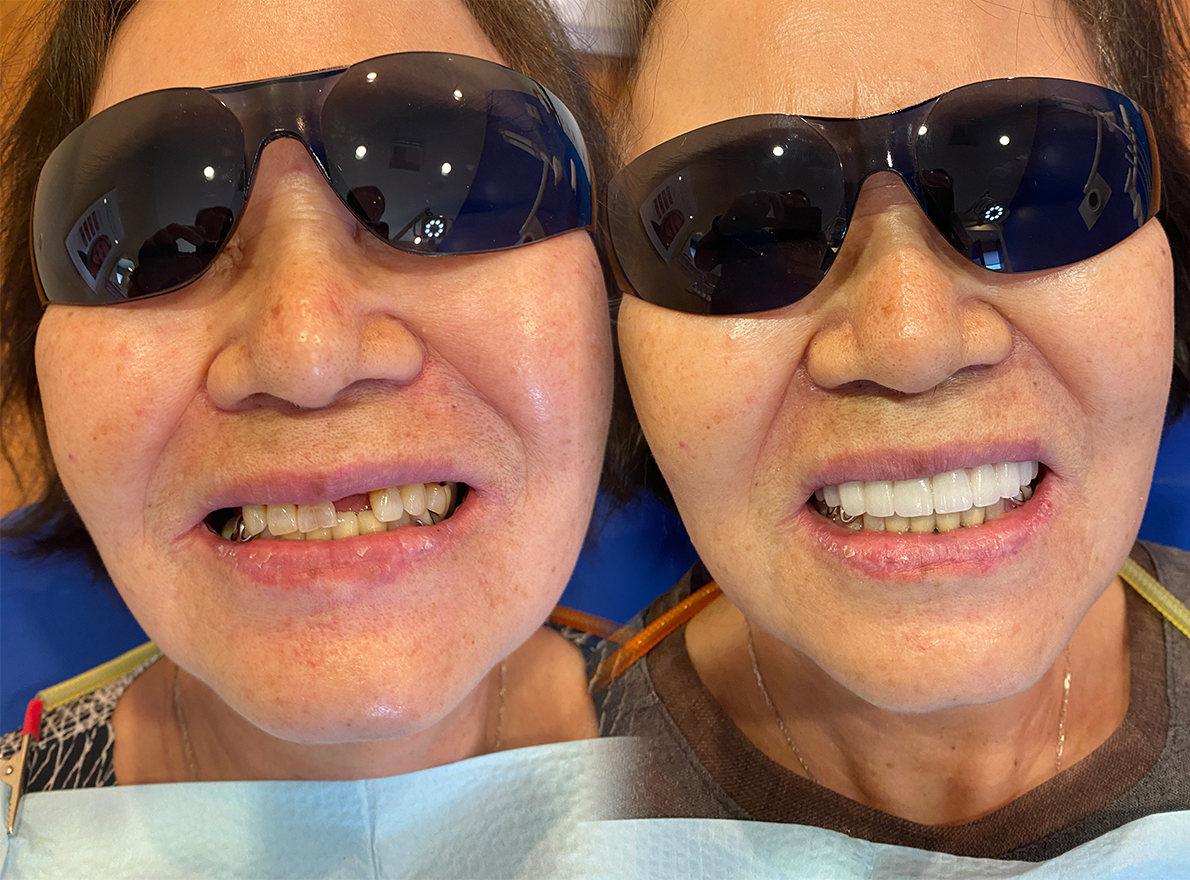 70 year old patient hated dark, worn down teeth and was wearing an annoying partial denture. We gave her a permanent solution with teeth that stays in her mouth. Now she looks amazing and can eat properly without denture moving around.
Dental Bridges
Dental Bridges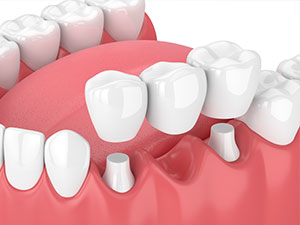 When teeth are missing, a series of changes that can impact your overall dental health and jaw function may begin to develop. The adjacent teeth may start to drift or tilt into the space, and teeth in the opposing jaw may start to shift toward the area of the missing tooth. It is therefore important to replace either the single tooth or multiple teeth that are missing from this area. One of the best options to prevent the consequences of shifting teeth and to restore full function to a small edentulous section in the mouth is a dental bridge.
A dental bridge replaces the missing teeth with artificial teeth called "pontics," and is supported on the ends by prepared natural teeth. Once fabricated and fitted a dental bridge will be permanently "fixed," or cemented into place. Like crowns, bridges can be made of either porcelain baked on to a metal substrate or many of the new ceramic materials that have been developed.
Fixed Bridges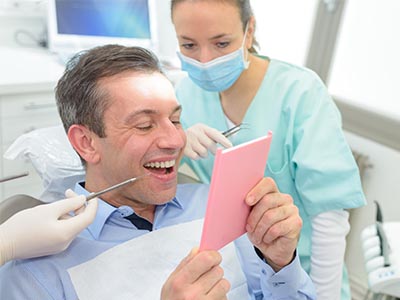 Fixed dental bridges involve the preparation and crowning of teeth on either side of an area missing teeth to support artificial teeth to span the edentulous area.
A fixed bridge is a non-removable appliance fabricated to replace missing teeth, which closely resembles a patient's natural dentition. Besides serving to restore the appearance and performance of a complete smile, a fixed bridge also prevents teeth that are adjacent to or opposite the edentulous area from shifting to protect the integrity of the occlusion. Fixed bridges are strong, durable and natural looking restorations, which once they are permanently cemented into place allow all manner of normal oral function.
How are fixed bridges fabricated?
Fixed bridges are typically fabricated over the course of multiple visits and involve the preparation of the adjacent supporting teeth, impression taking, the placement of a temporary bridge as well as the try-in and cementation of the permanent restoration. The teeth located on either side of the edentulous area that are crowned to provide support for the bridge are referred to as the "abutment teeth," while the artificial tooth (or teeth) spanning across the empty space are known as "pontics."
With the dental technology available today, bridges can also be completely supported by implants without any preparation or crowning of the adjacent natural teeth required. Depending upon the aesthetic and functional needs of a case, fixed bridges can be fabricated from different dental materials including porcelain, porcelain fused to metal, or engineered ceramic-like products such as zirconia.
Full Arch Implant Supported Fixed Bridge
As an alternative to full dentures, a full arch fixed bridge anchored to multiple dental implants can offer a permanent solution in situations where all the teeth are missing or have been deemed non-restorable and need to be replaced. A full arch fixed bridge anchored to dental implants is a highly stable and cosmetically pleasing solution that lets you eat and function as you would with a full set of natural teeth.
Lumineers
Lumineers®
WHAT ARE LUMINEERS?
LUMINEERS - The minimally invasive way to bring out the beautiful, healthy, natural, permanently white smile in you. Ultra-thin and translucent veneers LUMINEERS are custom designed to give you the beautiful smile you've always wanted. Unlike traditional veneers, treatment is possible without shots and without drilling of sensitive tooth structure.
WHAT IS THE DIFFERENCE BETWEEN LUMINEERS AND TRADITIONAL VENEERS?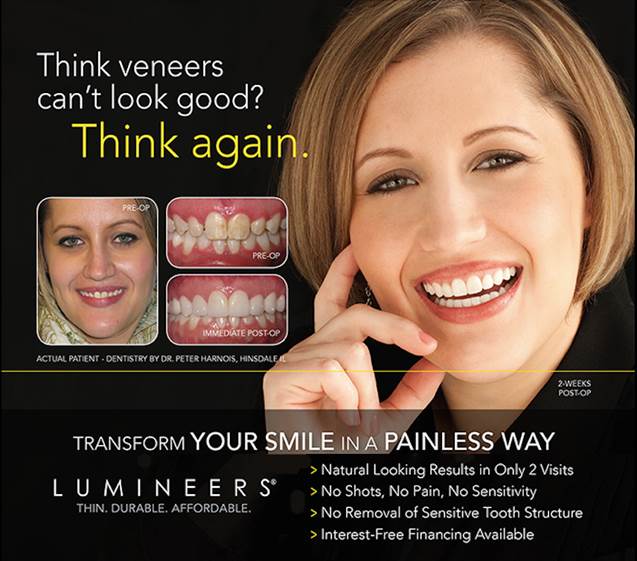 LUMINEERS are highly effective porcelain veneers: the thinnest and longest lasting. You can completely reshape and brighten your smile with the Lumineers process, and all without spending days in the dental chair.
With Lumineers, the structure of your natural teeth remains untouched
You need not experience numbing or pain for Lumineers application
The Lumineers process only takes two appointments, so you can spend less time in the office and more showing off your gorgeous new smile to the world!
Lumineers are proven to maintain structural integrity for over 20 years, giving you durable, worry-free new teeth.
Lumineers are slightly smoother than natural teeth, making it harder for bacteria to cling to teeth and helping prevent tooth decay.
Like standard porcelain veneers, LUMINEERS offer the best of both cosmetic and functional dentistry by enhancing your teeth aesthetically and structurally. Lumineers can also operate on a purely functional level: if you are completely satisfied with your current teeth but experience worn dentition or enamel loss, Lumineers can provide you with an entirely new tooth surface without altering the appearance of your smile. Lumineers are so thin and adaptable that they won't be seen in your mouth.
LUMISMILE DIGITAL PREVIEW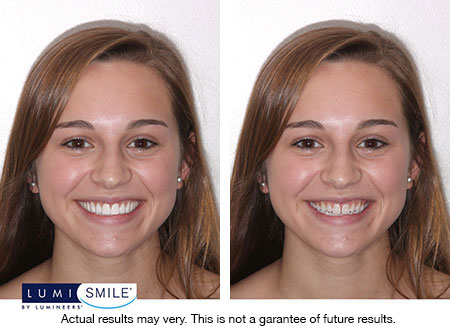 Now you can preview your LUMINEERS® smile before you have them! At Pasco Dental, our LumiSmile dental digital imaging shows you what Lumineers could look like in your mouth, and allows you and your dentist to determine a treatment direction. It is quick, free, and only requires a picture of your smile. After our team takes your picture, it is sent to a Lumismile artist who applies Lumineers to the images of your teeth. Before leaving our office that day, the picture will be returned and you will receive a portfolio featuring your prospective Lumineers smile.
Periodontal Disease Prevention & Treatment
Periodontal Disease Prevention & Treatment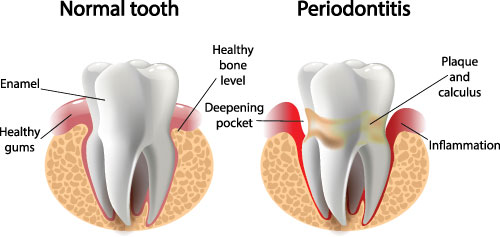 Non-Surgical Periodontal Treatment
When periodontal disease is detected early in its onset, conservative or non-surgical methods of care in combination with improved hygiene routines can restore periodontal health. While periodic, professional cleanings are sufficient to maintain periodontal health in patients that do not have gum disease, once gingivitis is present, deeper cleanings and possibly other non-surgical methods of care are recommended to treat the condition.
The American Academy of Periodontology emphasizes achieving periodontal health by means of the least invasive and cost effective treatment approaches to care. Deeper cleanings, which include Scaling and Root planing, are non-surgical procedures that are considered the first line of defense against the progression of periodontal disease.
With scaling and root planing, any plaque and tartar (hardened dental plaque) that have accumulated below the gumline are carefully removed and then the root surfaces of the teeth are smoothed. Since, periodontal disease is an inflammatory response to plaque, tartar and bacterial toxins, by simply mechanically eliminating these agents, the progression of gum disease can be halted. In addition to removing plaque and tartar with a scaling and root planing procedure, antimicrobial medication placed under the gumline or systemic medications can be used as adjuncts to care to further reduce the bacterial population.
If non-surgical approaches to managing periodontal disease do not achieve the desired outcome, surgery may be recommended to halt its progression and repair damage as possible.
Periodontal Surgery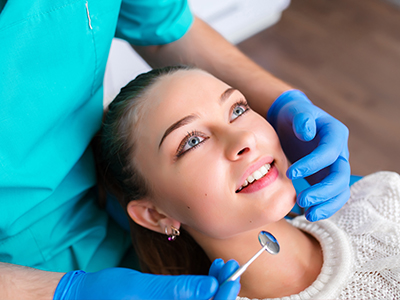 When gum disease has advanced beyond the initial stage, periodontal surgery is often recommended to effectively remove bacteria and tartar from around the teeth, reduce gingival pocket depth, restore lost tissue as possible and halt the disease process. Untreated gum disease is a progressive condition, which will continue to compromise the appearance of one's smile, dental health, oral function and overall well being if the appropriate measures are not taken.
With proper surgical treatment and maintenance care, the chances of tooth loss, further damage to the bone and soft tissues supporting the teeth, and complications from health problems that are linked to periodontal disease can be decreased.
Gum disease is typically the result of inadequate or ineffective oral hygiene practices that lead to the accumulation of dental plaque, which is sticky film that is colonized by oral bacteria. The harmful bacteria and the products they produce provoke a defensive, inflammatory response in the gums. When this inflammation is not resolved, tissue damage ensues and spaces between the gums and teeth that are known as periodontal pockets develop. As the periodontal pockets deepen, the bacteria become more difficult to remove and the gaps between the surface of the teeth and gums get larger. When pocket depth increases to the point of being beyond the reach of deep cleanings and other conservative methods of care (5mm or more), gum surgery to clean and treat the damage to gums and underlying bone is recommended.
By performing pocket reduction surgery the following is accomplished:
Sub-gingival bacteria beneath the gums and from the surfaces of the roots of the teeth is removed
Damage to the underlying bone is halted and affected bone is re-contoured
Effective oral hygiene to clean the teeth and gums is made easier
While a surgical procedure known as flap surgery during which the tissue is surgically reflected away from the teeth and bone so that the area can be treated before the tissue is sutured back into place, is typically performed, some practitioners are now using soft tissue laser procedures to reduce pocket depth.
Crown Lengthening
Crown lengthening is a common procedure that is routinely performed to re-contour gum tissue and bone, as needed, with the intent of making more tooth structure available for the placement of a dental crown or dental bridge. This is often the case when a tooth is decayed or otherwise damaged below the gum line.
Alternatively, a crown lengthening procedure can also be performed for reasons that are purely aesthetic to reduce the appearance of a "gummy smile" when too much of the gums and far too little tooth structure is displayed when smiling. It can be performed on a single tooth to make the gum line appear even with the other teeth or on several teeth to improve a smile's overall appearance.
Soft Tissue Grafts or "Gum Grafts"
In addition to the development of pockets and bone loss, periodontal disease can cause the gums to recede, thereby exposing the roots of the teeth. When the root of a tooth loses its overlying soft tissue, it becomes more vulnerable to decay, sensitivity and additional bone loss. Gum recession also takes a toll on smile aesthetics. Having front teeth affected by this problem can make a broad smile less aesthetically appealing as uncovered root structure is displayed. While gum recession is often a consequence of gum disease, aggressive tooth brushing and other habits can also wear away gum tissue.
By performing a gum graft procedure, which is also known as a "gingival graft or soft tissue graft," the dentist replaces the soft tissue over the exposed area of the tooth to address the problems created by receding gums. Gum tissue for grafting procedures can be harvested from a nearby site in the mouth or obtained from another donor source. A gum graft may be performed on a single tooth or multiple ones. And, based upon the needs of the case, the dentist will determine which type of gum graft to employ.
The three types of gum grafts include the following:
Free gingival graft - This graft utilizes a small piece of tissue that is taken from the palate. It is often indicated when extra thick tissue is needed to prevent further recession.
Connective tissue graft - This frequently used graft is harvested from a sub-layer of connective tissue located under the uppermost tissue layer on the roof of the mouth.
Pedicle graft - This type of graft is created from a flap of tissue that is adjacent to the area of the gum recession.
Following a gum graft procedure, the dentist will provide detailed post-operative care instructions as well as set up appointments to make sure the surgical site is healing properly and to check that the graft is successful.
Osseous Grafts or "Bone Grafts"
Bone loss in the jaws and around the teeth can be the result of missing teeth, periodontal disease, or trauma. This bone loss is more than a detriment to oral health and function; it can also alter facial appearance as the support for the natural contours of the face is diminished.
When a tooth is extracted, the natural stimulation to the underlying bone that is generated by the forces of biting or chewing is lost. In fact, bone width can be reduced by as much as 25% in the first year following tooth loss.
With grafting procedures, the dental bone can be restored to its original dimensions to maintain facial esthetics, repair the damage caused by periodontal disease as well as facilitate the success of procedures such as the placement of dental implants. A bone graft provides a platform or "scaffolding" for new bone growth and the material for a bone graft can be derived from the patient, other donor sources or be comprised of synthetic, bone-like materials.
There are several types of grafting procedures that can be performed with the particular approach depending upon the needs of the case.
A bone graft can be placed immediately upon the extraction of a tooth or some time after tooth loss. Placing a bone graft at the time of tooth removal reduces the amount of bone loss in the area to maintain the hard tissue support that is required for the future placement of a dental implant. When a bone graft is placed awhile after tooth loss, a separate surgical procedure is required to reflect the soft tissue, expose the underlying bone, place a graft and then suture the soft tissue back into place.
For patients lacking a sufficient amount of bone for a dental implant to replace a maxillary back tooth (upper back tooth), a procedure known as a "sinus lift" may be performed. During this surgical procedure, the sinus membrane is lifted and bone graft material is added between the jaw and the floor of the sinus to provide the needed bone height to successfully support a dental implant.
In addition to bone grafting for purposes of ridge preservation or augmentation to allow for dental implants, an aesthetic ridge augmentation procedure to restore the natural contours of the bone is sometimes performed in preparation for fixed bridgework to achieve a more cosmetically pleasing result.
To guide tissue regeneration as well as protect the graft and promote healing, special membranes and biologically active materials may be placed over the grafting material.
Root Canal Therapy
Root Canal Therapy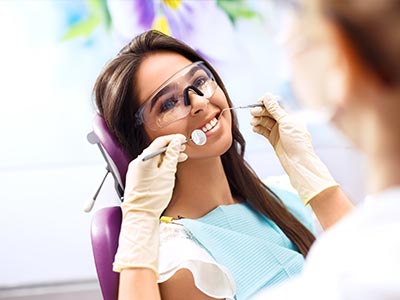 A root canal procedure is considered one of the most effective methods of saving and retaining a tooth that has been severely compromised by dental decay or injury.
According to the most recent American Dental Association Survey of Dental Services, almost 41,000 root canals are performed every day in the U.S. and close to 15 million are done over the course of a year. Since the success rate of endodontic treatment is well over 90%, and because maintaining a patient's natural dentition is essential to overall oral health, root canal therapy as opposed to having the involved tooth extracted is a widely recommended option in care.
A root canal procedure is indicated when the vital tissues, which are referred to as the "pulp," become inflamed or infected in response to an injury, deep dental decay or an advanced case of periodontal disease. Every tooth has either a single, central canal or multiple ones that contain the blood vessels, nerves, and connective tissue, which comprise the dental pulp. These pulp tissues are essential for a tooth to develop, mature and erupt into place. Once a tooth has emerged, the dental pulp provides nourishment to keep the tooth vital and serves to alert an individual that decay or some other type of damage is affecting the tooth. Having sensitivity to various stimuli like biting down and eating or drinking hot or cold items is a warning from the nerves inside your tooth that dental disease or trauma is taking a toll on the tooth, or infection is brewing. The degree of pain that you experience depends on the extent of the damage and nerve involvement.
When Is A Root Canal Procedure Recommended?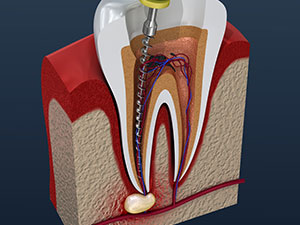 A root canal procedure is recommended when the dental pulp has become irreversibly damaged or has died, but enough healthy tooth structure and bone support remains around the tooth to save and maintain it. Since a fully developed tooth does not require the dental pulp to remain functional, a natural tooth can be effectively preserved with a root canal. During this procedure, the dentist removes the diseased dental pulp, cleans the internal portion of the tooth, and then fills all the prepared canals with a biocompatible filling material. Once the canals have been sealed and the tooth is symptom-free, the tooth will need a suitable restoration to reestablish its appearance and function and to strengthen it to withstand the forces generated in the mouth. With proper care, a tooth that has received a root canal therapy and restoration can be maintained for many years.
Modern technology and advanced methods of care make getting a root canal procedure as comfortable, and no more complex, than getting a routine dental filling. While some root canals can be completed in one visit, others may involve 2 or 3 appointments. How many visits it takes to complete a root canal procedure depends on factors such as the number of canals in a tooth, their anatomy and whether an active infection is present.
When root canal therapy is recommended, it is important to get timely care. If left untreated, the damage to a tooth and the risk of infection increase, as do the consequences to oral health and overall well being.
Dental Cleanings
Dental Cleanings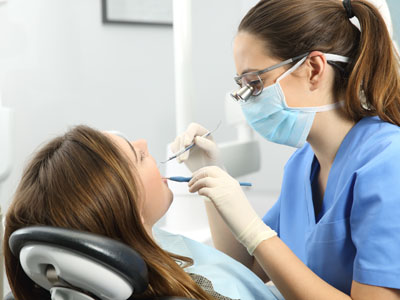 Dental Cleanings and Oral Hygiene
Although these two conditions are largely preventable, dental decay (caries) and periodontal disease, which is more commonly known as gum disease, represent the two biggest threats to your oral health. As part of an effective program of preventive care, thorough periodic cleanings at the dental office along with guidance in the best methods of brushing and flossing at home, play an essential role in warding off the development of cavities as well as the onset and progress of periodontal disease.
A routine dental cleaning as performed by the dentist or dental hygienist involves the thorough removal of any accumulated plaque and tartar from areas that your toothbrush and floss have not reached. Since dental plaque harbors the bacteria that are responsible for cavities and gum disease, its removal prevents these disease processes from occurring. Following a dental cleaning and polishing, which is performed to remove any superficial stains from your teeth, your mouth will feel fresh and clean.
Checkup and cleaning visits also represent an important opportunity to educate patients in the best oral hygiene homecare methods and routines to maintain a healthy smile. Your dental team will carefully explain and demonstrate proper techniques for brushing, flossing and other oral care practices at your initial dental appointment and subsequent recall visits.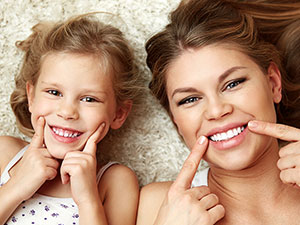 Periodic Fluoride Treatments
According to the National Institute of Dental and Craniofacial Research, tooth decay is the single most common chronic childhood disease. Over 50 percent of 5 to 9 year old children have at least one cavity or filling, with that proportion increasing to 78 percent among 17-year-olds. Additionally, more than 51 million school hours are lost each year to dental-related illness.
As an added level of protection against dental decay, it is recommended that children receive periodic fluoride treatments as part of a program of preventive dental care. Fluoride is a naturally occurring mineral that helps to prevent cavities by making the hard outer enamel of the teeth more resistant to the acids produced by the harmful sugar processing bacteria in dental plaque. It can also help to remineralize the teeth to reverse incipient decay.
During a periodic checkup visit, the dentist may recommend the application of a topical fluoride to help strengthen and protect both a child's baby teeth and the permanent ones. Topical fluorides can be applied as a foam, gel or varnish. Whatever type is selected, the procedure is quick and painless. Once the teeth are cleaned the fluoride is simply painted on the surfaces of the teeth or placed in a small tray to sit over the teeth for a brief period of time. Some types of fluoride treatment require no eating or drinking for half an hour as the fluoride is absorbed into the surface of the teeth. The dentist and dental hygienist will provide specific and detailed instructions as needed.
Fluoride treatment may also be indicated in adults who are at a higher risk for developing tooth decay.
Oral Exams
Oral Exams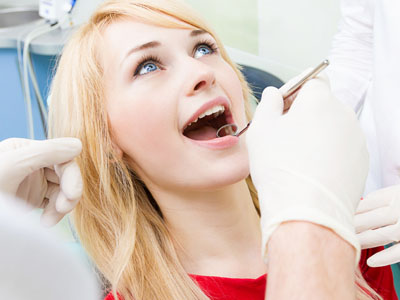 Your first visit to our office is very important with regard to establishing your oral health baseline. We will begin by carefully reviewing your medical and dental histories and taking special note of all of your dental concerns, as well as any symptoms that you may be experiencing. This will be followed by a thorough clinical examination, including an oral cancer screening, periodontal evaluation, an analysis of your occlusion (bite) plus a thorough examination of your teeth, their supporting structures, and the complete orofacial area. Any needed diagnostic dental films will be taken at this time.
Dental Checkups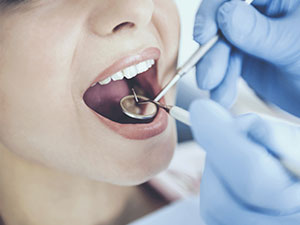 By scheduling a periodic appointment for a checkup and professional dental cleaning, your dentist can help to keep your smile looking good and functioning at its best. At every checkup visit, your medical and dental histories are carefully reviewed and a comprehensive examination of your mouth, jaws, and surrounding areas of the head and neck is performed. While checking for the development of common dental conditions such as tooth decay and gum disease and doing a screening for oral cancer, your dentist will also make note of any signs of problematic health issues that may have originated elsewhere in the body. Experiencing dry mouth, bad breath, gum problems, ulcerations or other oral lesions may be indicative of a serious underlying systemic condition. As part of a comprehensive clinical exam, the dentist will assess the function of your temporomandibular joints (TMJ) and your bite (occlusion) for any impairment or misalignment. The consequences of various dietary choices, eating disorders, harmful habits, certain medications and inadequate oral hygiene practices may also be detected at this time.
Teeth Whitening
Teeth Whitening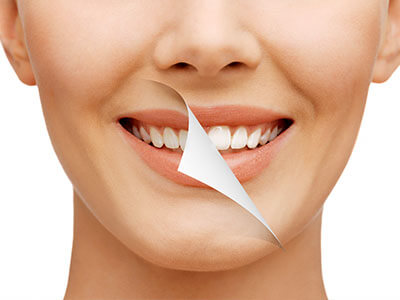 A teeth whitening procedure or bleaching simply refers to any process that will make the teeth appear whiter. It is considered a non-invasive procedure that is designed to whiten and brighten teeth that are stained, discolored, darkened, or yellowed. First introduced to the public in the 1980's, the popularity of teeth whitening products and procedures has soared. According to a survey conducted by the American Academy of Cosmetic Dentistry, when respondents were asked, "What would you like to improve most about your smile?" The most common response was: whiter and brighter teeth.
How white a tooth appears depends upon how light is reflected and scattered off the enamel, the outermost layer of the tooth. Teeth can look dark or discolored for a variety of reasons, with an imperfect appearance the result of outer surface stains or discoloration from within the tooth. While external tooth stains are typically due to certain foods and tobacco, internal tooth discoloration is mainly the result of hereditary factors, certain medications, tooth decay, restorations, or trauma. Additionally, the aging process can influence the color of a tooth. This is because over time the outer layer of enamel becomes thinner showing more yellowish tones from the underlying layer of dentin.
What are the advantages of a professional teeth whitening procedure performed by a dentist?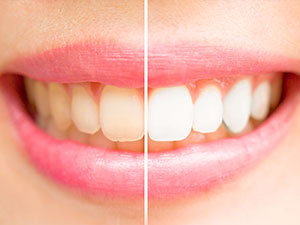 Although over the counter teeth whitening systems purchased in stores or online have become popular, there are health concerns and limitations with these products. If the manufacturers protocol is not correctly followed, certain products can damage the teeth and soft tissues in the mouth, and may not deliver the results as promised. Teeth whitening systems contain varying concentration of either hydrogen peroxide or carbamide peroxide, which act as the bleaching agents. When sensitive teeth, exposed roots, cavities, broken fillings, cracked teeth, or loose dental work are present, a teeth whitening procedure may be contraindicated. Also, since whitening systems do not have an effect on the color of dental fillings, crowns or bridges the presence of restorations is an important cosmetic consideration in treatment planning.
In general, individuals with yellow tones to their teeth respond best to teeth whitening procedures. Brown and grayish tinted teeth bleach respond less well and may require significantly longer dentist supervised tooth whitening regimens or alternative cosmetic treatments. Finally, teeth whitening may not be recommended in the presence of sensitive teeth, worn enamel and significant gum disease.
As a rule the healthiest and most effective methods of teeth whitening are the ones managed and supervised by the dentist. An in-office teeth whitening procedure as performed by the dentist is the most reliable and safest way to get the maximum results quickly. In as little as one hour a prescription-strength, in-office whitening procedure can dramatically whiten and brighten the natural teeth by several shades, while the surrounding tissues and any sensitive areas of the teeth are carefully isolated and protected from the bleaching agents.
A home whitening system from the dentist along with custom trays that have been fitted to the teeth is also an excellent option. Custom trays keep the bleaching agent in maximum contact with the teeth and away from the other areas of the mouth. With a take-home teeth whitening system, maximum results are less rapid than an in office procedure and are typically achieved over a longer period of time. A home whitening system can be used by itself or as recommended by the dentist as a follow up to an in office procedure in order to perfect or maintain the results.
Dentures & Partials
Dentures & Partials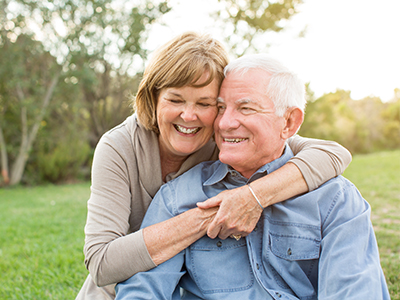 According to the National Institute of Dental and Craniofacial Research (NIDCR), 3.75% of adults 20 to 64 in the United States are completely edentulous. For the overall population in this age group, the average number of remaining teeth is 24.92 out of a total of 32 permanent teeth.
One of the ways to replace missing teeth to restore oral function and appearance is with dentures. Depending upon the needs of a case, dentures can be used to replace either a few teeth that have been lost or all of the teeth in the upper or lower jaws. In addition to reestablishing the look of a complete and natural smile, dentures also restore support to the natural contours of the face to eliminate the "sunken" appearance that results from losing multiple teeth. Whether teeth have been lost for reasons of tooth decay, gum disease, a medical condition, congenital anomaly, or trauma, dentures are an effective method of care.
Dentures are removable appliances that are designed to precisely and comfortably rest on top of the gums that cover the jawbones. They can be taken out of the mouth for brief periods of time to fulfill the oral hygiene requirements of maintaining the underlying tissues, cleaning the dentures, and sleeping.
Types of Dentures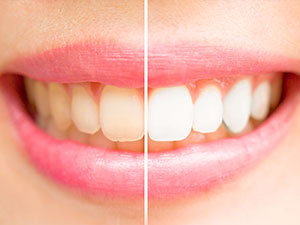 The two main types of dentures are: full dentures and partial dentures. Both types are custom fabricated based on the exact specifications obtained from dental impressions and detailed functional as well as esthetic information provided by the dentist.
Full Dentures
Full dentures, which can also be referred to as, "complete Dentures," are designed to replace all of the upper or lower teeth. A complete maxillary denture, more commonly known as a, full upper denture, typically consists of a base that covers the roof of the mouth with a full complement of artificial teeth set around the section covering the dental arch. On the other hand, a complete mandibular denture, or full lower denture, is designed to accommodate the tongue and is horseshoe shaped with teeth set along the portion that covers the underlying dental arch.
Conventional Full Denture - A conventional full denture is fabricated and placed after all of the remaining teeth have been removed and the tissue is healed. It takes several weeks for extraction sites to heal and for all of the surrounding bone and gum tissues to fill in and remodel. By allowing this process to reach completion before taking the final impressions for a new denture, the most precise and comfortable fitting prosthesis can be fabricated.
Immediate Denture - An immediate denture is one that is inserted on the day the remaining teeth are removed. With this method of care, a patient does not have to be without teeth while waiting for complete healing of the extraction sites. Immediate dentures offer the distinct cosmetic advantage of not having to be without teeth. However, since the healing of the extraction sites is occurring while wearing the denture, a reline or new denture may be required later for improved comfort and fit.
Overdenture - An overdenture is a type of complete denture that receives added stability and support from special attachments that are secured to the remaining underlying teeth or strategically placed dental implants.
Partial Dentures
A partial denture is a type of removable prosthesis that is designed to restore a complete and functional smile in cases where multiple teeth are missing or require extractions, while some healthy teeth remain in the dental arch. Custom fabricated for a precise fit and cosmetically pleasing appearance, partial dentures are typically secured and stabilized with clasps or precision attachments to select teeth adjacent to the edentulous areas. Depending upon the number of teeth being replaced as well as the functional and aesthetic requirements of the case, a partial denture can be fabricated from a combination of cast metal and acrylic materials, acrylic alone, or thermoplastic resins such as Valplast™, Flexite®, Duroflex® and tcs®.
Tooth-Colored Fillings
Tooth-Colored Fillings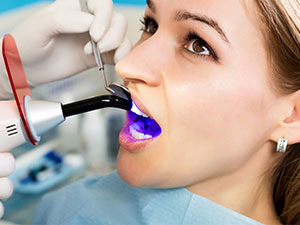 With advances in dental materials and science, restorative materials that are aesthetically pleasing as well as strong and durable are widely available for the filling and repair of teeth that have been affected by tooth decay or dental injuries.
Composite fillings, which are frequently referred to as either "tooth colored fillings" or "white fillings," are a combination of biocompatible resins and finely ground, glass-like filler materials. Composite fillings, which are manufactured in a complete range of natural looking shades, provide a more cosmetically pleasing alternative to traditional "silver" fillings. Often used to fill a tooth by replacing tooth structure that is missing due to injury or decay, dental composites can also be placed to modify a tooth's color or shape to dramatically improve its appearance as well as repair dental defects and close gaps between the teeth.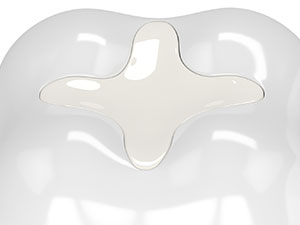 The composite systems used by dentists today integrate the highest quality of microfill particles and resin materials to produce restorations that can withstand the forces generated by all manner of oral function, while achieving attractive, natural looking and long-lasting results. Composite restorations are adhered to the underlying tooth structure through a bonding process, which also serves to seal and strengthen the tooth. Once a composite restoration is placed and is "set" or "cured", the dentist can refine its shape as well as smooth and polish it to maximize patient comfort. This also helps to prevent the restoration from staining and to avoid premature wear. Besides providing a pleasing match to your natural tooth color, a composite restoration has other advantages over other types of restorations. Composite fillings do not require the removal of as much tooth structure to facilitate placement, nor are they subject to expansion or contraction with temperature changes as is the case with dental amalgams. However, the one drawback is that composite restorations may be more vulnerable to wear and stains over time and can require replacement down the road.
Smile Facelifts
Smile Facelifts
Restore a more youthful and vibrant appearance!
Today, you can transform your smile while enhancing facial aesthetics and jaw function! With a Dentofacial Lift from our office, you can reverse the effects of aging as well as improve the look of your smile, jawline, and overall facial profile. Best of all, there's no need for any surgical procedures. That's right, you won't need a conventional, invasive facelift or jaw surgery, nor is any drilling of healthy teeth required!
This innovative approach to care combines advances in cosmetic dental restorations, jaw alignment technology, and leading-edge treatment methods to achieve optimal facial aesthetics and function.
Here's what a Dentofacial Lift can do for you:
Establish ideal jaw position
Give you a younger and more vibrant appearance
Improve your facial contours, jawline, and profile
Enhance the look of your smile
Correct a bad bite without drilling your teeth
Reduce TMJ discomfort and associated symptoms
A completely non-surgical approach to care
A Dentofacial Lift from our office does not involve dermal fillers, complex orthodontic treatment, jaw surgery, or chin implants to address a less-than-perfect smile or jawline. Instead, it offers a non-invasive way improve jaw position, facial aesthetics, and TMJ function.
It takes just a few visits to look years younger
As the first step in care, we'll carefully assess all aspects of your smile and facial aesthetics. We value patient input and pay close attention to your cosmetic goals. Every treatment plan involves optimizing jaw position to reduce the appearance of facial sagging, improve facial contours, and facilitate healthier jaw function. Once this ideal position is established, it only takes a few visits for us to design and place beautiful restorations that transform the appearance of your smile as well as support both jaw health and function.
Invisalign®
An innovative, discreet, and effective system of care, Invisalign® treatment offers a cosmetic way to align your smile with minimal interference to daily activities using a series of clear aligners.
With aligners that are practically invisible, only you will know that you're undergoing orthodontic care! Invisalign may, in most cases, eliminate the need for unsightly, uncomfortable, unattractive bands and wires. Whether you are a teenager who needs braces to correct a malocclusion or an adult who would like to straighten out some crooked teeth, Invisalign may well be the answer for you!
Invisalign utilizes 3-D computer imaging technology to correct problematic bites or malocclusions by planning a complete sequence of custom-made clear aligners. This series of clear aligners incrementally move the teeth into place until the final desired corrections are reached.
With Invisalign® clear aligners, your treatment is tailored to you. Innovative technology combines with a personalized treatment plan to make custom clear aligners for creating your new smile.
As pioneers in the field of aligner development and technology, the folks at Align Technology, Inc. gather data from millions of treated smiles to design treatment systems that:
Are faster, more advanced and comfortable than other options in care.
Are able to address a broad spectrum of malocclusions ("bad bites") and teeth alignment issues.
Allow more precise planning and control of multiple types of tooth movement.
Custom-made to the exact specifications of your smile, Invisalign clear aligners are designed to incrementally move your teeth into their correct positions over time. Simply swap-out last week's aligner for the next one in the series and watch as your smile progressively shows signs of improvement.
And, because Invisalign clear aligners are removable for short periods of time, as opposed to traditional braces, you can still enjoy the foods you love as well as brush and floss your teeth with ease!
Whether you are a teen who needs braces or an adult who yearns to "fix" their smile, Invisalign clear aligners may be the perfect solution for you! Contact our office for more information and to schedule a consultation for care.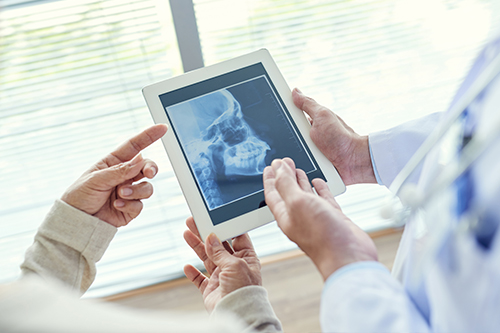 Come in for a consultation
Your doctor will examine your teeth and show you what Invisalign treatment can do for you.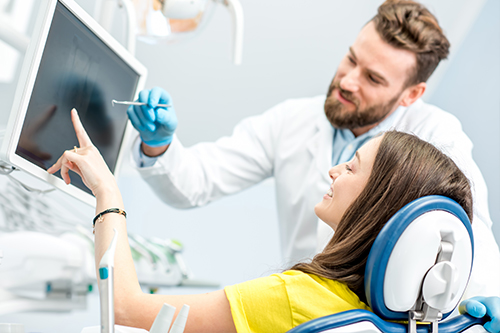 Get your personalized treatment plan
Start with a fast, precise digital scan. Then your doctor will map out a custom treatment plan just for you. You will even get a preview of your smile.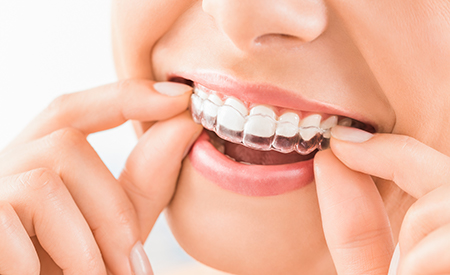 Your aligners are customized for you
Your clear aligners are created using industry leading technology based on your customized treatment. Your aligners are created with comfort in mind.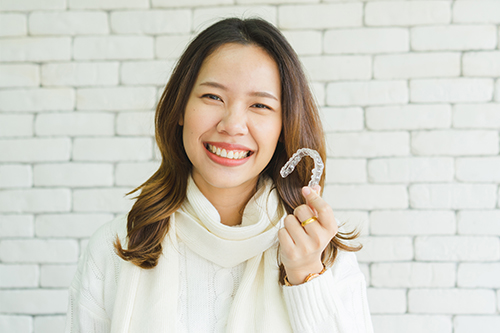 Pick up your first aligners
From the first day of treatment to the last, you're never on your own — your doctor will be with you every step of your way.
The difference is clear
Explore the true stories and journeys of several Invisalign patients
*Invisalign is a registered trademark of Align Technology, Inc.
Frequently Asked Questions
+
I want to straighten my teeth but I don't want metal braces. What are the alternatives?
There are many options for patients who want to avoid metal braces! The most popular alternative orthodontic treatment is Invisalign®, which are clear plastic aligners designed to straighten teeth. After an examination of your teeth, your dentist will determine which option is best suited to your wants and needs.
+
Is Invisalign® expensive?
According to the Invisalign® website, the cost for treatment is approximately the same as the cost for metal braces. A portion of this cost may be covered by your insurance. Please call Pasco Dental to set up a consultation and discuss potential payment plan options.
+
How does Invisalign® work?
The first step is to schedule a consultation with your doctor, so they can devise a treatment plan that is best suited to your individual dental needs. Once approved, you will receive your first set of aligners. Your doctor will then regularly monitor the movement of your teeth and new aligners will be ordered according to the progress made in your treatment plan.
+
What is Invisalign® made of?
Invisalign® aligners are made of clear, flexible plastic. The company received a patent for this material – SmartTrack® – to be used exclusively for Invisalign treatment purposes. These aligners are FDA approved and nearly invisible!
+
How long does Invisalign® treatment take?
Your doctor will give you an estimate regarding how long your Invisalign® treatment should take, which will depend on your specific needs. The average length of time for treatment is approximately 12-18 months. However, some patients may see results far sooner. Remember to wear your aligners exactly as instructed by your doctor to obtain the best results.
+
Are Invisalign® results permanent?
Your doctor will most likely recommend that you wear retainers following your Invisalign® treatment. This is a precaution that will prevent your teeth from shifting back to their original positioning. It is important to follow your doctor's instructions exactly to ensure long-lasting results.
+
How often must I wear my aligners?
You must wear your aligners for up to 22 hours daily. You may remove them for eating, drinking and regular oral hygiene.
+
Are there any restrictions to what I can eat while in treatment?
No. Unlike braces, you may eat whatever you like as long as you remove the aligners before eating. Prior to placing the aligners back on, it is important to brush your teeth and the aligners after you eat.
+
Will wearing the aligners affect my speech?
Like any orthodontic treatment, there is a short adjustment period. The more you speak with the aligners on, the quicker you will adjust.
+
Is there any discomfort with Invisalign® treatment?
There will be some pressure and minor discomfort for a day or two after each initial insertion. This is a sign that your teeth are moving sequentially into their final position.
+
Can I chew gum?
It is recommended that you remove your aligners prior to chewing gum as the gum will stick to the aligners.
+
Can I smoke with the aligners in?
We discourage smoking with aligners as the cigarette smoke will tend to discolor them.
+
How do I keep my aligners clean?
Brushing them with toothpaste will keep them fresh and clean.
+
How often do I see an orthodontist while wearing Invisalign®?
Regular office visits are every five to six weeks. This will ensure that your Invisalign treatment is progressing as planned.
+
What happens after my treatment is complete? Do I need retainers?
All orthodontic patients are instructed to wear their retainers at night indefinitely. Sleeping with your retainers in at night will ensure a healthy bite and maintain the new position of your teeth.
+
How long does Invisalign treatment take?
Treatment time varies depending on the severity of the misaligned teeth. Treatment time can be shorter than traditional braces, between six and 18 months.
+
Does Invisalign work for kids?
Yes, if their teeth, including second molars, have grown in completely.
Sedation Dentistry
Sedation Dentistry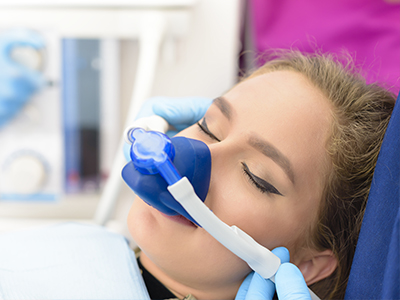 Sedation dentistry offers individuals with general anxiety about going to the dentist or fears about a specific dental procedure the opportunity to have a stress free and more comfortable experience. Utilizing safe and controlled sedation techniques prior to the dental procedure the patient is eased into a state of complete relaxation. This eliminates any discomfort, pain, and preoperative anxiety that may be associated with a particular dental visit. With sedation dentistry patients typically feel more at ease post-operatively as they have little or no memory of the actual moment-to-moment dental procedure.
Nitrous Oxide
Commonly referred to as "laughing gas," nitrous oxide is used as a mild sedative to reduce anxiety and allow a level of relaxation during a procedure. Nitrous oxide is inhaled through a small mask over the nose. It is administered for the duration of the procedure and is turned off as the procedure is coming to an end. The effects of this method of sedation wear off very quickly.
Oral Sedation
Oral Sedation means that you will be given a prescription for an oral medication prior to you appointment. Taken at the recommended time before your appointment, this medication allows you to fully relax by the time your procedure begins. When receiving oral sedation, a patient must have an escort on the day of the procedure to drive them to and from the office.
Veneers
Veneers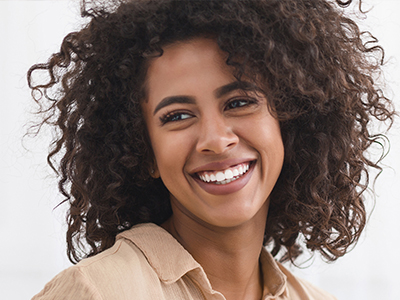 For teeth with imperfections that cannot be addressed with teeth whitening procedures, but are not so flawed as to require full coverage crowns, dental veneers can provide the desired cosmetic improvements.
Dental veneers are custom-fabricated facings that offer a conservative and cosmetically pleasing way to improve the appearance of teeth that are chipped, gapped, worn, slightly crooked, misshapen or darkly stained. With dental veneers, the color, shape, size, and length of the teeth can be changed for the better. Bonded to the front surfaces of the teeth, veneers can be used to enhance the appearance of a single tooth or multiple anterior teeth.
The two most common types of veneers are porcelain veneers, which are also known as porcelain laminates, and composite veneers. While porcelain veneers are the most commonly offered option in care, composite veneers can also achieve excellent results. Starting with a smile makeover consultation and a comprehensive assessment of a patient's oral health as well as a discussion of the cosmetic goals, the dentist will determine a treatment plan to achieve the most pleasing outcome of care.
Porcelain Veneers
Porcelain veneers are ultra-thin facings that are custom fabricated from the highest grade of dental ceramics and offer the following benefits:
Require very little preparation of underlying tooth structure
Can be fabricated from start to finish in just a few visits
Porcelain reflects light in much the same way as teeth for a naturally beautiful looking smile
Once bonded, porcelain veneers are strong and durable and can last for many years with proper care
Resistant to stain and discoloration
Well tolerated by surrounding periodontal tissues
Composite Veneers
When direct composite veneers are the selected method of care, the dentist applies carefully selected shades of tooth-colored composite resins to the fronts of the involved teeth. As the composite resin is placed, it is meticulously sculpted to create the desired shape, length and overall form of each tooth. Each layer of applied composite is then cured with a special light, and additional layers of composite are placed as required to achieve an aesthetically pleasing and functional result. Once the final result is completely set, the dentist will smooth and polish the direct composite veneers to a naturally brilliant finish.
While composite veneers frequently offer the advantages of being a single visit procedure, easy to repair and an economical alternative to porcelain veneers, they are not as strong or resistant to staining and wear as dental ceramics. However, by avoiding certain dietary choices and habits, practicing good oral hygiene and getting routine dental care, direct composite veneers can offer an effective and long lasting cosmetic smile improvement.
Pediatric Dentistry
Pediatric Dentistry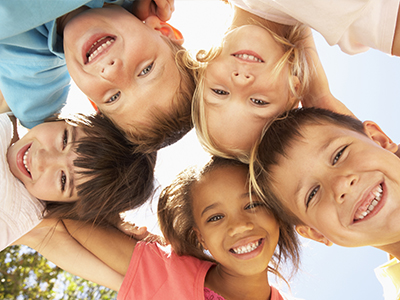 At our office, we take pride in creating and maintaining beautiful and healthy smiles for our younger patients in an environment that is lighthearted and fun. With an emphasis on establishing oral health habits that last a lifetime, we offer a comprehensive program of preventive care and closely monitor the dental health of our pediatric patients as they grow.
As an added level of protection to guard against childhood dental decay, we recommend periodic fluoride treatments and the application of dental sealants on the biting surfaces of the newly erupted permanent back teeth.
Pediatric Dental Emergencies
Dental emergencies in children can arise for a number of reasons. Recognizing the fact that children have active lifestyles, means there is always a chance an accident involving a hit or blow to the mouth or teeth can occur. These traumatic injuries can happen at home, in the playground or on the playing field. Common injuries to the teeth and oral cavity seen in a pediatric dental office include everything from soft tissue lacerations of the lips, cheeks or tongue to chipped, fractured, dislodged or "knocked out" teeth. Equally frequent reasons for children to require urgent dental care are painful toothaches, dental infections, and mouth ulcerations. Whatever the dental emergency may be, prompt and effective care is required to alleviate a child's discomfort and to prevent more serious consequences to their oral health and overall well-being.
Pediatric dentists are trained in all facets of dental care for children and are well equipped to handle a wide range of dental emergencies. They provide skilled and compassionate care, helping children to feel comfortable and safe while restoring their oral health and function.
Gummy Smile
Gummy Smile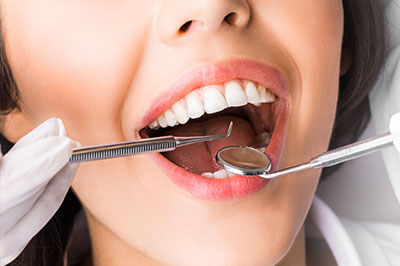 A beautiful smile not only radiates personal warmth, but it also illuminates your face and accentuates your best features. Ideally, when you smile your teeth and only a minimal amount of gum tissue should be evident. However, a "gummy" smile displays an excess amount of pink gingiva, diminishing one's facial aesthetics and even compromising the look of a well-aligned and vibrant smile.
Whether a gummy smile is the result of a jaw growth discrepancy, the overgrowth of gingival tissue, a high lip line, a larger than normal muscle attachment, or teeth that are too small, there are several options in care to transform and improve the look of a less-than-perfect smile.
At our office, we analyze every aspect of your smile, including how much tooth structure vs. the amount of gum tissue that is showing when you smile. We'll then recommend the best course of care to improve the appearance of your smile. While some cases can be treated with procedures such as the cosmetic re-contouring of the gums, or a laser frenectomy, other cases may require orthodontic care or a consultation with an oral surgeon. Whatever the case may be, you can rest assured that the look, health, and function of your smile is in the best of hands at our office.
Smile Makeover
Lumineers®
WHAT ARE LUMINEERS?
LUMINEERS - The minimally invasive way to bring out the beautiful, healthy, natural, permanently white smile in you. Ultra-thin and translucent veneers LUMINEERS are custom designed to give you the beautiful smile you've always wanted. Unlike traditional veneers, treatment is possible without shots and without drilling of sensitive tooth structure.
WHAT IS THE DIFFERENCE BETWEEN LUMINEERS AND TRADITIONAL VENEERS?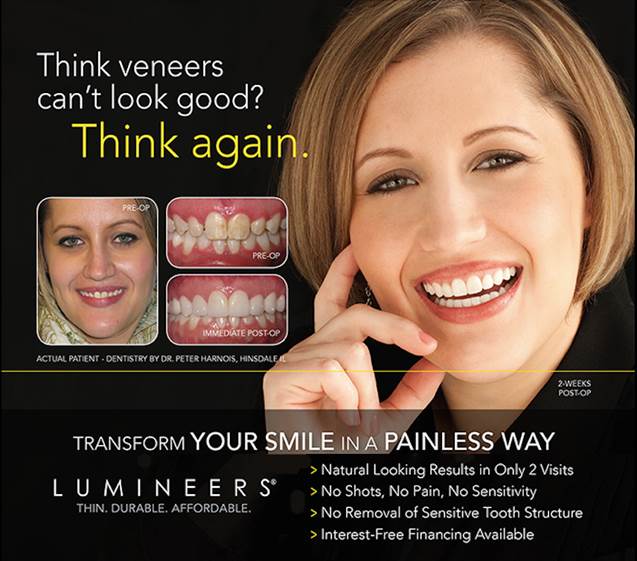 LUMINEERS are highly effective porcelain veneers: the thinnest and longest lasting. You can completely reshape and brighten your smile with the Lumineers process, and all without spending days in the dental chair.
With Lumineers, the structure of your natural teeth remains untouched
You need not experience numbing or pain for Lumineers application
The Lumineers process only takes two appointments, so you can spend less time in the office and more showing off your gorgeous new smile to the world!
Lumineers are proven to maintain structural integrity for over 20 years, giving you durable, worry-free new teeth.
Lumineers are slightly smoother than natural teeth, making it harder for bacteria to cling to teeth and helping prevent tooth decay.
Like standard porcelain veneers, LUMINEERS offer the best of both cosmetic and functional dentistry by enhancing your teeth aesthetically and structurally. Lumineers can also operate on a purely functional level: if you are completely satisfied with your current teeth but experience worn dentition or enamel loss, Lumineers can provide you with an entirely new tooth surface without altering the appearance of your smile. Lumineers are so thin and adaptable that they won't be seen in your mouth.
LUMISMILE DIGITAL PREVIEW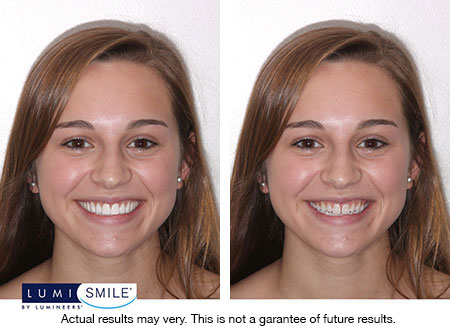 Now you can preview your LUMINEERS® smile before you have them! At Pasco Dental, our LumiSmile dental digital imaging shows you what Lumineers could look like in your mouth, and allows you and your dentist to determine a treatment direction. It is quick, free, and only requires a picture of your smile. After our team takes your picture, it is sent to a Lumismile artist who applies Lumineers to the images of your teeth. Before leaving our office that day, the picture will be returned and you will receive a portfolio featuring your prospective Lumineers smile.